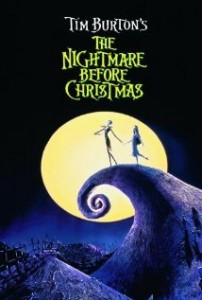 Right after this movie we switched gears to see the new version of The Nightmare Before Christmas. Tim Burton's Halloween tale has been redone by Disney in digital 3D. Yes, we sat there with the glasses on.
I've always been a fan of this movie though I can see why it isn't for everyone. I also feel it's more of a Christmas story than a Halloween story. The new version looked pretty good up there. It was shown at our local AMC (a place I generally detest going to) using their digital projector. It's also pretty clear that this movie wasn't originally done in 3D. While some of the effects were impressive much of it might has well have just been in 2D. Elements often felt that they could have been in 3D but just weren't. This was made all the more obvious by a couple of 3D trailers being shown just prior to the movie starting that did impress with their use of the effect. Interestingly, the most impressive 3D in the movie was a new pre-show scene, involving a jack-o-lantern jack-in-the-box, pointing out that you're watching the 3D version.
The rest of the movie appeared untouched to me but I also hadn't seen it in a few years and am not a scene-by-scene authority on it. It played as I remembered it and certainly didn't lose anything in the process. I still love many of the songs and much of the look.
The main thing I came away with was that I'm willing to see more movies using 3D. However, if this ever really took off, I'd like to find a company that produces top quality 3D glasses to use over the freebies they give you at the theater. Ours were brand-new and came wrapped in sealed plastic but they were also pretty poor. The lenses were bent causing distortions in the picture.