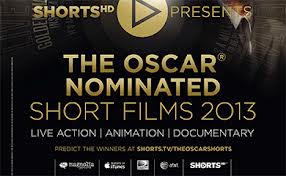 We're lucky enough in the Philadelphia area to have access to two of the collections of the Oscar nominated short films as presented by ShortsHD. The documentary collection has never made it here, but here's hoping that they're eventually offered as well. The animation and live action shorts this year didn't stack up against previous years. Perhaps I feel this way because there was a distinct lack of humor in all of the live action shorts and much of the animation. Humor isn't a requirement for quality in a short. In fact, the strongest animated shorts are more clever than funny, and the best live action shorts deliver emotion or drama instead of laughs. Don't get me wrong. All of the entries are quite good. I just wanted a little more oomph. One change this year makes the collections more enjoyable: previous winners host the shorts and offer insights into their design process and Oscar experiences.
Russ's Rating: [stars rating=3]
The Oscar Nominated Short Films 2013: Animation consists of the five Oscar nominees and three other shorts. Animated shorts are typically much shorter than live action shorts, so in order to pad the running time of the entire presentation, other animated shorts are added to the mix. That's just fine by me, but with just three additional shorts this year, I felt underwhelmed by the set. William Joyce and Brandon Oldenburg, directors of The Fantastic Flying Books of Mr. Morris Lessmore, host these shorts. Sadly, these entries are not all new to frequent moviegoers. Two of the nominated shorts appeared before major motion pictures.
Maggie Simpson in "The Longest Daycare" (5 minutes, USA) was teamed with Ice Age: Continental Drift. Maggie navigates the Ayn Rand School for Tots and takes on the sadistic Baby Gerald in what feels like a sequence from the show instead of a truly unique short. Adam and Dog (16 minutes, USA) uses watercolors to show the relationship between Adam and the first dog in the Garden of Eden. Fresh Guacamole (1 minute 45 seconds, USA) is the shortest film ever nominated for an Oscar and a follow-up short to Western Spaghetti. It uses stop-motion animation to transform everyday objects into guacamole. Head Over Heels (11 minutes, UK) uses stop-motion animation to show the everyday life of longtime couple Walter and Madge who have grown apart to the point where Walter lives on the floor and Madge on the ceiling. Mostly black-and-white short Paperman (7 minutes, USA) preceded Wreck-It Ralph and tells the meet-cute story of George and Meg who share a moment on a train platform in New York City that inspires George to send paper airplanes toward Meg when he spots her in an opposite building. The Highly Commended additional shorts feature a computer-generated spaceship in Abiogenesis (5 minutes, New Zealand), the art-consuming (literally) thief of Dripped (9 minutes, France) and the funny creatures of The Gruffalo's Child (27 minutes, UK/Germany) — a sequel to The Gruffalo that once again teams a few Harry Potter film actors (Helena Bonham Carter, John Hurt, Robbie Coltrane and Shirley Henderson) for voice work.
I'm biased toward Paperman because it mixes clever animation and romance effectively. This is the short that will probably win the Oscar. However, my favorite of the bunch is really Fresh Guacamole. When they show clips of the shorts at the Oscar ceremony, they should just show this entire short. It's creative, fun, colorful, humorous and magical — everything I look for in an animated short. Look it up online if you don't take in this collection.
Russ's Rating: [stars rating=3]
The Oscar Nominated Short Films 2013: Live Action collects only the five Oscar nominees and no bonus shorts. This would be fine except that the shorts are all serious and feature themes like aging, dying and poor children. The host for these shorts is Luke Metheny, writer/director/star of God of Love. You might remember him from the Oscar ceremony because he has a big head of hair and a fun personality. His stories between shorts are the only elements keeping this collection lively because the shorts themselves might make you cry.
Death of a Shadow (20 minutes, France/Belgium) feels like an entire sci-fi/steampunk movie condensed to 20 minutes as a man uses a strange device to capture shadows for a collector of shadows who frames them in his mansion outside of time. Henry (21 minutes, Canada) treads the same ground as Amour as the aged titular concert pianist reminisces on his life with his violinist wife. Curfew (19 minutes, USA) is a New York City story as a man at the end of his rope babysits his precocious teen niece. Buzkashi Boys (28 minutes, Afghanistan/USA) takes place in Kabul as a street beggar and blacksmith's son fantasize about their futures and attend matches of buzkashi, a sport like polo where they shuttle around a dead goat. Asad (18 minutes, South Africa/USA) takes place among Somali refugees in South Africa as the titular boy is torn between the easy money of piracy and helping an old man fish.
I expect that Buzkashi Boys or Asad will win the Oscar because they have poor kids trying to do the right thing and earn better lives. Of the two, it will probably be Asad because the political undercurrent of the movie highlights the atrocities that drove people from Somalia into other countries. My favorite is Death of a Shadow. From the opening scene, it is captivating and creates a weird world where shadows can be pinned to canvases and a machine can pinpoint the year and method for the deaths of people. My second favorite is Curfew, which would make a great feature film if expanded past its rather perfect condensed story.