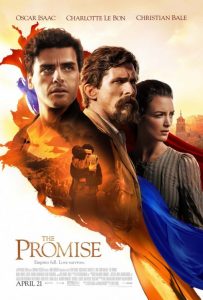 A determined medical student finds his life turned upside down amidst the Armenian Genocide in The Promise.
Director Terry George (director of Hotel Rwanda and writer of In the Name of the Father) turns his discriminating attention to the taboo topic of Turkey's Armenian Genocide during the First World War. As the conflict began to ravage much of the world, the Ottoman Empire used the distraction to embark on a systematic deportation and execution of its Armenian population.
George excels at highlighting the stories of seemingly insignificant people overcoming and surviving incredible odds with perseverance. His latest project is more of a mixture of fact and fiction than his previous autobiographical works. The Promise is a land-based version of James Cameron's Titanic. It takes a sobering, almost unbearable human tragedy and personalizes it with a more approachable fictional love triangle. It's a risky choice that guarantees the ire of film purists but that works well for mainstream audiences.
Oscar Isaac delivers another exceptional performance as the unlucky apothecary in search of a better life. He's easily one of the most adaptable actors working today. Christian Bale and Charlotte Le Bon complete the romantic triangle with more muted secondary characters. The film's only failings are minimal. It has an annoying penchant for foreshadowing and special effects that seem awkwardly artificial. Neither detract much from the overall enjoyment of the experience.
This is an eloquent, effective story of romance, racism and ruin. Most importantly, it raises awareness of a chapter of our history that should not be forgotten.