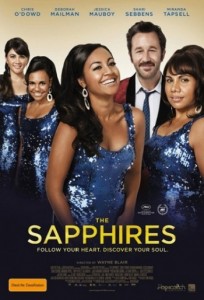 Four simple Aboriginal girls and a washed up former events director team up to create a singing sensation and learn about life in The Sapphires.
The year is 1968 and, for decades, the Australian government has oppressed the indigenous native Australians forcing them to live on reserves or missions, denying them proper education and requiring governmental approval for some of life's most basic freedoms including the right to marry or even use some electrical appliances. Into this world four young women, with a gift for song, dream of a better life. They meet a down and out events coordinator named Dave (Chris O'Dowd) who believes that, together, they've got the right stuff to make it big. The first step on that journey (after much trial and error) is to head for Vietnam where beleaguered soldiers await any form of entertainment that can lift their spirits if only for a little while.
The Sapphires was originally a successful musical co-written by two Aboriginal men. One of the men is the son of one of the women that directly inspired the story. The tale is fiction but elements are heavily based on the real life experiences of the four women singers.
This coming-of-age story mixes both a historical retelling and a musical into one package. Unfortunately it doesn't seem to know which one it really wants to be and the result is a disjointed effort that has some wonderful moments here and there along with some excellent musical numbers. It just doesn't pull off an even flow especially during the middle of the film where it slows down and really loses its way. It's also deftly witty and touching and that's a testament to the cast who deliver very believable performances with limited material.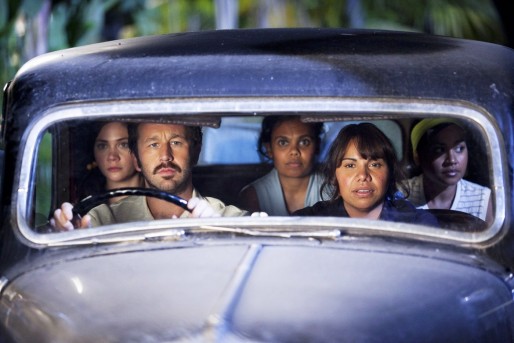 O'Dowd is wonderful as the manager. His look and mannerisms are a perfect fit for the role and one of the chief reasons we buy into any of the story. The band itself is comprised of three sisters and a long-lost cousin. Two of the sisters — Gail and Julie — are played by Deborah Mailman and Jessica Mauboy . Mailman is a seasoned actress whom I couldn't quite place until I realized she was one of the noteworthy kids in the excellent film, Rabbit-Proof Fence more than a decade ago. She has a presence that seems bigger than the film and it's her leadership that drives the story. Mauboy is another shining light whose vocal talents and mannerisms transcend the material. She jumps off the screen in every scene she's in. That said, I think she's a bad choice for the role. She comes off here as too distinct and polished for the role and would be much better served in a less native story.
I also had an issue with the way the film presented two major historical events. The Aboriginal oppression is glossed over here in a way that reminded me of Disney's self-exiled The Song Of The South. It's mentioned quickly in a few scenes and then treated as a non-issue. The conflict in Vietnam is another problem. We get hints of the impact but only from an arms length and when things do heat up it's presented in an almost videogame-like manner that just didn't work for me.
Even with those concerns the overall viewing experience is positive. The performances rise above the hurdles and the musical numbers strike a winning chord. In the end it's a very maternal story that will warm the hearts of many women viewers and keep everyone else fairly entertained.