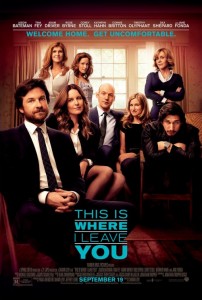 Four siblings reunite at their childhood home after the death of their father in This is Where I Leave You.
Judd Altman (Jason Bateman) returns home for his father's funeral, where he joins his mother Hillary (Jane Fonda), his sister Wendy (Tina Fey), his older brother Paul (Corey Stoll), his younger brother Phillip (Adam Driver) and the rest of the extended family.
Once there, Hillary tells the kids that their father's last request was for the five of them to sit Shiva — a Jewish ritual that takes place over seven days. This is all the more surprising since none of them, including their late father, are Jewish. Mom compels everyone to take part, ushering in a very uncomfortable proximity for a clan that long ago went their separate ways. Judd's specific resistance stems from his own personal baggage. Not only was he never close to his father, but he's also having serious problems with his marriage. The last thing he wants is to have to discuss all the intimate details in excruciating detail with everyone there. It turns out that Judd is far from alone. Each of the Altmans harbors his or her own specific secrets, and each is just as hesitant to discuss them as Judd is.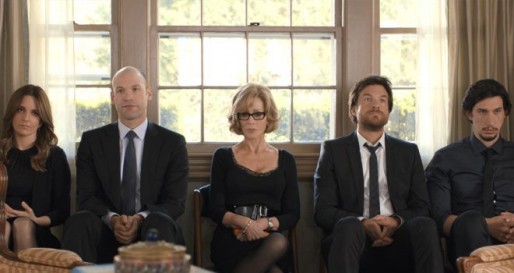 This is a comedy with some curious surprises. Nearly every main player brings along a dark, seedier issue that the film manages to work into something laugh-worthy. With few exceptions, the ensemble cast delivers. This is Bateman's best film in years. He's always had the ability to play the typical everyman. He finally gets to do it without a ridiculous character destroying the effort. Fonda returns with a strong performance and a physique that reminds us of the days when she helped launch the workout video craze. Is this really what 76 can look like? Driver's appearance feels like his tenth film of the year but shows that he's more than just a bit player.
The film is never slow, packs a number of solid laughs and has a few nice moments. It does have a tendency to deflate its own energy now and again, especially when it relies too heavily on a few sophomoric clichés. The one casting disconnect is Fey. When we first meet her character, we're sure that she'll be a mainstay, but it never really goes anywhere. Connie Britton and Kathryn Hahn give superb performances as, respectively, Phillip's older lover and Paul's suffering wife.
All in all, it's an entertaining distraction with a well-suited soundtrack, some nice performances and a solid finishing act. If only every other Shiva could be as entertaining.