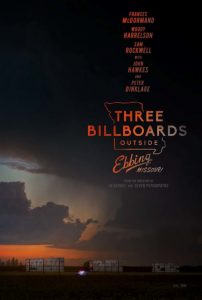 A grieving mother spurs her community to action in Three Billboards Outside Ebbing, Missouri.
Everyone knows that few things are as risky as coming between a mother and her offspring. It's a lesson that's every bit as true in civilized society as it is in the wild. Mildred (Frances McDormand) is one small-town example where the term "civilized" gets lost in the emotional chaos of unfettered anger, obstinance and determination. Mildred's only daughter was brutally raped and murdered. In the seven long months since the crime, the local police seem devoid of any clues as to her daughter's assailant. The torturous experience leaves Mildred every bit as dangerous as a provoked grizzly, but one with a cunningly devious plan.
Writer/director Martin McDonagh (In Bruges and Seven Psychopaths) weaves a captivating, unrelenting tale that takes no prisoners. This is a film that stares you calmly and coldly in the eyes just long enough to distract you from a firm punch to the gut. The real surprise is how quickly we jump back up to willingly absorb more of the same. McDonagh's rich cast of quirky characters instantly command your rapt attention. They're every bit the kind of people whom you love to hate and hate to love. This offbeat dark comedy boasts several unforgettable performances, including Woody Harrelson as the annoyed local sheriff and Sam Rockwell as his dutiful but dimwitted deputy. Playing a minor role, Peter Dinklage does a great job of nearly stealing the show with one perfectly timed punch line after another.
The film's biggest trick is how effectively its plot takes us on a personal tour through deep, unexpected emotions. Just when you think that you've got it figured out, Mildred manages to sneak in another unexpected rabbit punch. It's a brilliant story rife with brash intensity unlike any other film this year.