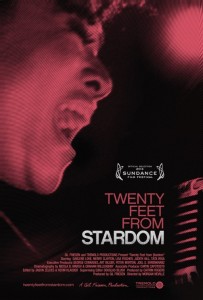 Backup singers are often overlooked in rock music. You've heard their work on records or live, but unless they get to vocalize a little more than normal in a song, they blend into the background. Because of the early influence of Motown and the blues in rock music, many of these background singers were black women whose tone and delivery really fit the records of the rock era. There have been so many documentaries in recent months about politics, the environment and plenty of negative subjects, so it's a refreshing experience to see Twenty Feet from Stardom. This uplifting and memorable documentary concentrates on the careers of six women as it explores the work that backup singers do and their unmistakable influence on popular music.
Twenty Feet from Stardom begins, appropriately enough, with an interesting credits sequence in which images of musical acts have the lead singers' or stars' faces blacked out in order to highlight the backup singers. The accompanying music is Lou Reed's "Walk on the Wild Side," which has the famous chorus that starts with "And the colored girls go." A reference to the ubiquitous black women who sang with bands, this opening sets the focus for the film. Director Morgan Neville (director of Troubadours) takes the warts-and-all approach to this subject. He doesn't glamorize the life of the featured women, many of whom bounce from hotel room to hotel room and city to city while on tour or contributing to albums in various recording studios. Instead, Neville celebrates their achievements and honors their sacrifices. He also includes interviews with stars like Bruce Springsteen, Stevie Wonder, Mick Jagger, Sting, Bette Midler, Sheryl Crow and producer Lou Adler, who sing the praises of the singers as they turn the spotlight over to them for a while.
If there's any star of the documentary, it's Darlene Love, a woman who has had an amazingly full career and continues to make music and perform. Love got her start early on with The Blossoms, a girl group who actually contributed vocals to many songs like "Monster Mash" and were never credited or even intentionally credited as another group. The Blossoms were also part of Phil Spector's Wall of Sound and recorded songs like "He's a Rebel." It's a treat to see Love recall her vocal parts in famous songs. Neville returns to Love's history throughout the documentary, and he smartly both begins and ends with her presence. There's a wonderful, appropriate studio performance of "Lean on Me" sung by Love with her own support from other backup singers from the movie — Lisa Fischer, Judith Hill and Jo Lawry, singer for Sting. Fans of David Letterman already know that Love performs "Christmas (Baby, Please Come Home)" every year for his Christmas show. Those yearly appearances are presented as almost a hero's return, and if anyone deserves accolades, it's the persistent Love.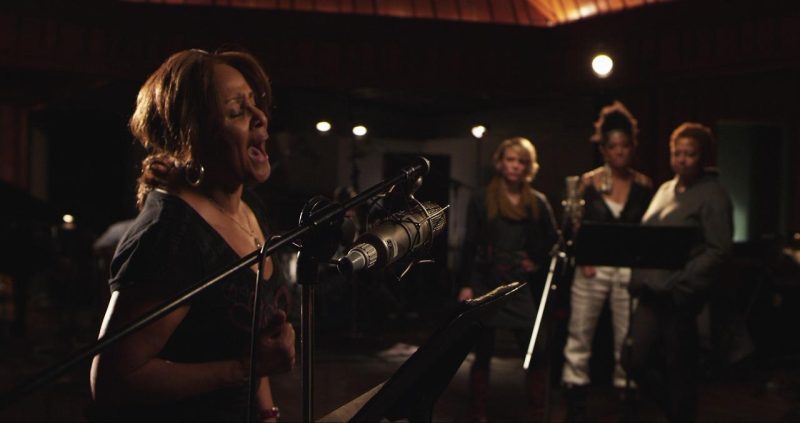 If there's a fault with Twenty Feet from Stardom, it's that the film too quickly switches between singers and their stories. That can get especially confusing given that three of the women (Merry Clayton, Claudia Lennear and Fischer) have worked with The Rolling Stones over the years. Clayton has sung with many artists over the years, including Carole King, and she recalls with humor her summoning to the studio in the middle of the night to contribute those amazing vocals to "Gimme Shelter" that overshadow Jagger. Lennear sang with Ike & Tina Turner and Joe Cocker. She also influenced songs for both Jagger and David Bowie, notably "Brown Sugar," and appeared in Playboy. Fischer's story has had its ups and downs with Grammy success in 1992 and gigs with The Rolling Stones and Sting. Fischer is quite in demand for concerts, and this documentary catches up with her on the road. Fischer has joined The Rolling Stones on every tour since 1989, including belting out "Gimme Shelter," and she's just about to finish their 50 & Counting tour. Fischer may just be the biggest powerhouse singer in the documentary, and her hard work and touring are the hallmarks of a backup singer with a legendary reputation.
Táta Vega and Hill are featured to a lesser extent than the other singers. Vega has worked with Elton John and various others, and like the other women, she has some stories to tell. Hill is almost featured as the future of backup singers and their transition from a supporting role to the lead. Hill was supposed to sing on the comeback tour with Michael Jackson. Instead, she sang at his memorial service. Most recently, she competed on the singing series The Voice. There's some irony in that she was eliminated earlier than expected and the winner of the season was 16-year-old country singer Danielle Bradbery, who had never performed before the show. Crow actually did sing for Jackson before her solo success, so I think the message here is that Hill may just follow in her footsteps and certainly has the skill to do so.
When I learned about the subject matter of Twenty Feet from Stardom, I expected stories about certain notable performances in hit songs. The documentary certainly delivers in that regard, but it sadly omits one of the most electric vocals in all of rock. Clare Torry improvised her soaring vocals for "The Great Gig in the Sky" from The Dark Side of the Moon by Pink Floyd, and it's always a special song in a Pink Floyd or Roger Waters concert. I would have liked to have learned more about that iconic singing. Twenty Feet from Stardom is a film that all music fans can enjoy. It's nice to shine the spotlight backwards and bathe the all-important backup singers in its glow.