We saw Woody Allen's latest film, Vicky Cristina Barcelona this past weekend and it was a very enjoyable affair.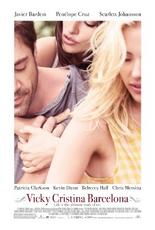 Woody writes dialog better than most writers out there and this film was no exception. It's my favorite Allen film since, Hannah and Her Sisters which remains my favorite of all his works.
The stars include Scarlett Johannson (Cristina), Rebecca Hall (Vicky), Javier Bardem and later Penelope Cruz. To be blunt, that's an awful lot of sexuality in one film. Everyone pretty much thinks Johannson is the current "it" girl. I've always thought she was cute but now take issue with the view that she's some sort of 10. In this film she looks great but in my view she's blown out of the water by Rebecca Hall. My first response to her was, "Who?" She played Christian Bale's wife in The Prestige and that's about all I can say I've seen her in. There she looked pale and plain. Here she lights up the screen.
Then there's Bardem who I last saw in a completely different role. He won the Oscar for playing the psychopath in, No Country For Old Men. The amazing thing is how transformed he is. He was so completely devoid of any hint of sexuality in that role while here he looks like Adonis. Have to admit he's one sexy, good-looking guy.
About halfway into the movie you get to add Penelope Cruz to the mix. My oh my. Cruz has been a favorite of mine from the first film I saw her in called Belle Epoque. In it she played the youngest of four sisters and she was easily the least attractive of the four. Imagine that!
If that wasn't enough in the way of attractive people for you then add Patricia Clarkson too. She may be older now but she's still as hot as they come.
Phew….. Okay enough with the testosterone and on to the film. It's essentially the story of two good friends who get an offer to spend the summer in Spain. Once there they meet up with a very forward but intriguing guy, and later, his insane ex-wife. It's a fairly standard story for the most part with some typical Allen-esque twists wound in. Some parts are a bit far-fetched but that's okay. In the end it's a really fun experience for those who like their fun with a little intellect on top. It's been a while since I've seen a movie of this type and it was a very enjoyable break from the typical films I've been seeing lately.