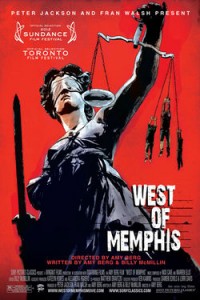 You may have previously heard about the West Memphis Three and the Robin Hood Hills murders in West Memphis, Arkansas, in 1993. Three little boys were found murdered in a ditch, and three young men were railroaded and convicted by a corrupt system and prosecutors. Documentary directors Joe Berlinger and Bruce Sinofsky examined this case in Paradise Lost and its two sequels. Interest has grown internationally over the years because of the egregious injustices against the convicted trio. Although it perhaps isn't a necessary film given the other coverage of this case, West of Memphis proves to be a captivating documentary that feels like a whodunit despite the ending readily available to anyone who does a cursory search of the case.
I don't exactly understand the title because the town involved is West Memphis and the state is Arkansas instead of Tennessee. Cowriter/director Amy Berg (writer/director of Deliver Us from Evil) and cowriter Billy McMillin transcend this minor complaint with their well-organized film that involves many of the key members of the case either directly or through file footage. More importantly, they dig deeper with additional investigations spearheaded by producers Peter Jackson and Fran Walsh. The result is a new approach to the case that feels like a TV forensic investigation show than a summary of the facts. Unfortunately, the passage of time has ruined much of the physical evidence and many of the memories of people involved who just want to forget or at least move past the incidents.
Damien Wayne Echols, Jason Baldwin and Jessie Misskelley were convicted in 1994 of the murders of eight-year-old boys Christopher Byers, Steven Branch and Michael Moore. People formed immediate opinions of the accused because of their interest in heavy metal music and their nature as outsiders. Time has a way of altering opinions as people dug deeper into the case because of the death penalty delivered to Echols and the developing use of DNA evidence in trials courtesy of the O.J. Simpson trial. Although this documentary does involve quite a lot of interviews, Berg captures the best moments of these interviews, so the film never seems plodding. The film does focus a bit more on Echols because he and wife Lorri Davis are also producers and his supporters believed that they could exonerate all three if they could overturn his death penalty conviction and/or secure a new trial.
The fascinating aspects of the film are the ways it takes apart every piece of evidence to either question their validity or offer other suspects. DNA evidence is especially important to these circumstances because of the telling samples that were collected at the crime scene. Attorney Barry Scheck offers his comments on the case; he has made a second career out of DNA evidence and The Innocence Project. Celebrities like Henry Rollins, Natalie Maines and Eddie Vedder followed the case over its two decades and participate here as interviewees as well. It's easy to sit in a theater and absorb the facts presented in over two hours, but it's an amazing feat to assemble all of this knowledge in such a way that it presents a new look at the 1993 events.
Documentaries like this one are maddening, sickening and even uplifting as the director guides you toward an ending that involves the filmmakers' agenda. The specific circumstances of the fates of Echols, Baldwin and Misskelley almost ensure that this case may never be solved. Unless there are some major developments in the future, I expect that West of Memphis may be the last cinematic examination of these events. There are probably many other prisoners with similar stories to the West Memphis Three, and if this film does any good, perhaps light will shine on them as well. This movie provokes, informs and prompts thoughts and discussions as only the best documentaries do.