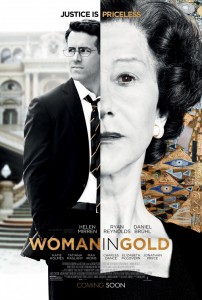 A riveting true story about a Jewish refugee's fight to recover stolen works of art plays out in Woman in Gold.
Helen Mirren, sporting a pair of colored contact lenses that entirely transform her look, stars as Maria Altmann, whose well-to-do family was decimated by the Nazis during their occupation of Austria during World War II. The enemy immediately confiscated a treasure trove of priceless artworks from Altmann's childhood home while restricting the entire family to house arrest. One of the family's most prized possessions was an iconic painting of Altmann's aunt Adele, which was produced by famed painter Gustav Klimt.
Since the war, Altmann has been looking for ways to regain ownership of the stolen property now boastfully on display in a top Austrian museum. The museum has claimed to be its rightful owner. Now nearly worn out from the decades of fruitless battle against seemingly the whole of Austria, Altmann puts all of her final energy into one last effort to free the artwork. She enlists the help of a brash young attorney, Randy Schoenberg, played by Ryan Reynolds.
I'm not a big fan of art, and I can't begin to tell you why one painting is better than any other. Thankfully, nothing about this film requires any such knowledge to enjoy it. This is simply a David vs. Goliath tale to which anyone can relate. We have Mirren giving us yet another incredible performance as an elderly survivor, determined to set the world straight no matter the odds. Reynolds does an admirable job as the lawyer, but he pales in comparison to Mirren's standout performance.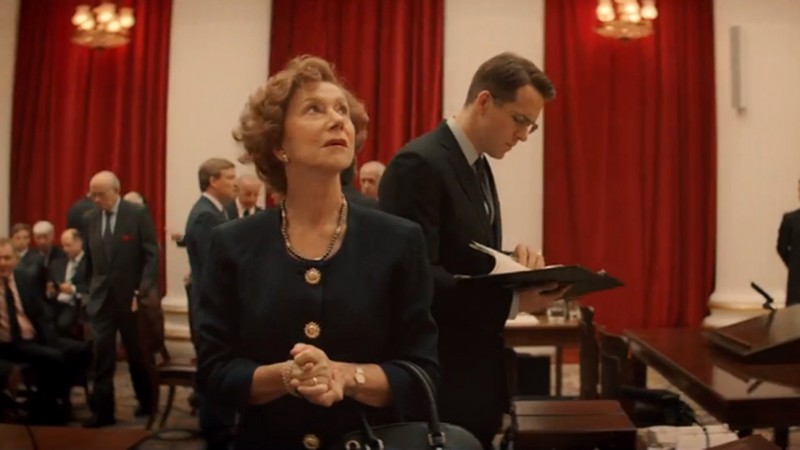 The plot gets off to a bit of a slow start before taking hold and never letting go. Director Simon Curtis brings the same dutiful polish to this effort as he did with another introspective winner in 2011's My Week With Marilyn. He also trades on the title and the primary painting by bathing a lot of the visuals in shades of gold. Much of Altmann's story is related to us through several flashback sequences that slowly — but not too slowly — reveal the full emotional impact of her journey and dedication to the cause. For her, it's an excruciating experience, reigniting a past that she would prefer to have left to history.
The film does resort to painting by the numbers when it comes to both the museum staff and Schoenberg's wife, played in forgettable fashion by Katie Holmes. There's also a confusing role played as best as can be expected by Daniel Brühl. Aside from these few minor distractions, this is a compelling, often moving tale that more people should know. It's also Mirren at her best, which is worth the price of admission alone.