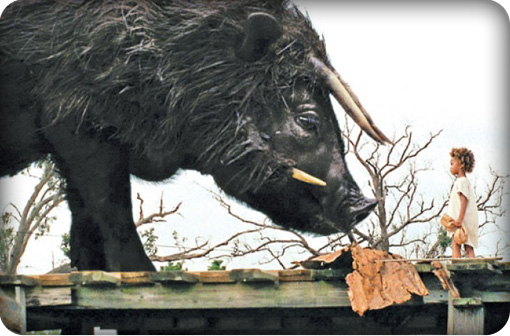 Last year, Beasts of the Southern Wild became a critical favorite, nominated for several Academy Awards including Best Picture, Best Actress for Quvenzhané Wallis, Best Adapted Screenplay and, most disturbingly for me, a nomination for Best Director for a man three years older than I am. Tonight, New Yorkers can catch a special outdoor screening of the film with Director and Composer Benh Zeitlin recreating his original score with a live orchestra.
Once upon a time, another film with a mostly amateur cast about a child exploring Louisiana — Robert J. Flaherty's Louisiana Story — had been one of the most acclaimed cinematic works in the world. It came to my attention in an old Sight & Sound Top 10 list. In 1952, it was tied for fifth place with DW Griffith's Intolerance. Only Bicycle Thieves, City Lights, The Gold Rush — they really liked Charlie Chaplin — and Battleship Potemkin rated higher. At the time of its release, it was nominated for a screenwriting Oscar. New Yorker celebrated its debut with a three-part profile of Flaherty and his work, beginning with the observation that the film "provoked frenzied cheers from the critics." An excerpt…
The thunderstorm of journalistic applause that greeted "Louisiana Story" pleased Flaherty, but he was no less warmed by a telegraph he got from some friends on the West Coast. "Just saw your magnificent film," it read. "Do it again and you will be immoral and excommunicated from Hollywood, which is a good fate. Congratulations- Oona and Charlie Chaplin, Esta and Dudley Nichols, Dido and Jean Renoir."
It disappeared from subsequent Sight & Sound lists and seems to have slipped into the public domain, readily available online for anyone with an Internet connection and an hour and twenty minutes to kill.
I thought it was curious that a film that I had never heard of was once so celebrated and had then completely fallen out of favor. The wikipedia article has just over 500 words. Roger Ebert never reviewed it as part of a Great Movies series. It was not one of the 400 films nominated by the AFI for either of its Top 100 films series. It doesn't appear on theyshootpictures.com's list of the 1000 best films, although Flaherty is considered the 115th best director and has it mentioned in his profile. It doesn't have an entry in Have You Seen?, David Thomson's book of introductions to 1000 films.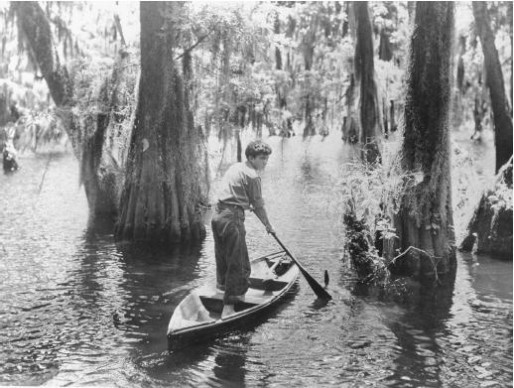 In The New Biographical Dictionary of Film, Thomson did devote a paragraph of his entry on Robert J. Flaherty to the director's last works.
In fifteen more years, Flaherty had three finished products. On Elephant Boy he was engaged as a talisman to guarantee Sabu and the Hungarian Kordas against the spurious. The Land was made in America for the U.S. Film Unite, while Louisiana Story was sponsored by Standard Oil. Uselessly beautiful, it seems blind to the conflict between oil-company prestige and Flaherty's unreasoned preference for raw nature. It was shot in Louisiana but is really in a dream world. It has banal symbols—the comparison of the boy's bare feet and the metalwork of the derricks. But it also has the final version of a vigorous image that runs through Flaherty's work—of a man hauling some object from the water: in Nanook, it is the walrus; in Man of Aran, the nets; in Louisiana Story, an alligator. Such repetition, and the poetic rapture that goes with it, speaks for the instinctive wildness embedded in Flaherty's romantic style.
There isn't much of a mystery about why the film was rated so highly. Robert J. Flaherty was a popular director among film critics in 1952. He had just died, so they were more likely to think of his most recent work when Sight & Sound asked them to select their favorite films. A decade later, critics developed different preferences. The 1962 list included four Italian films: Michelangelo Antonioni's L'Aventurra at #2, Bicycle Thieves at #6, La Terra Trema at #9 and L'Atalante at #10. From that point, Flaherty would be overtaken by later directors, some of whom would flame out and some of whom would have more staying power.
Now, if Flaherty appears on lists of great movies, it's more likely to be because of Nanook of the North, which had an influence on the documentary genre. Moana and Man of Aran might also appear on a few lists — although not as high. It could be that modern critics have access to more films, so they've been able to find better films than Louisiana Story, including a few by Flaherty. It seems unlikely that modern critics will honor what was essentially a commercial for the oil industry.
The similarities between Louisiana Story and Beasts of the Southern Wild were noted in a few early reviews, so I'm surprised by the lack of interest in the older film following the success of Beasts. It's a reminder that the reputations of works of art are sometimes in flux. Beasts may be forgotten a few years from now, or it could be acclaimed as one of the finest works of the last decade — and then forgotten a decade later.