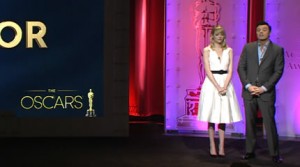 This morning Seth McFarlane and Emma Stone announced the nominees for this year's Oscar ceremony.
This year's list, like so many before it, snubs some movies and talent and includes others than have no business being here.
My take:
Best Supporting Actor:
Christoph Waltz for Django Unchained
Phillip Seymour Hoffman for The Master
Robert DeNiro for Silver Linings Playbook
Alan Arkin for Argo
Tommy Lee Jones for Lincoln
It's amazing to me that virtually no one is mentioning DeNiro any longer. When did that happen? For me, this comes down to Jones vs. Waltz and while I think Jones may win it, I believe Waltz did the better job. Would voters be willing to pick Waltz yet again for another role from Quentin Tarantino?
Best Supporting Actress:
Sally Field for Lincoln
Anne Hathaway for Les Miserables
Jacki Weaver for Silver Linings Playbook
Helen Hunt for The Sessions
Amy Adams for The Master
Anne Hathaway has this locked up. However, Helen Hunt made The Sessions. Without her the movie's a bust. Sally Field doesn't even belong on the list. I love Field but this role was totally a bore.
Best Actor:
Daniel Day-Lewis for Lincoln
Denzel Washington for Flight
Hugh Jackman for Les Miserables
Bradley Cooper for Silver Linings Playbook
Joaquin Phoenix for The Master
Day-Lewis has had this one nailed for quite some time. However, I hear Phoenix is great (I haven't seen The Master) and Washington was terrific. The upset could be Jackman. I'll stick with Day Lewis.
Best Actress:
Naomi Watts for The Impossible
Jessica Chastain for Zero Dark Thirty
Jennifer Lawrence for Silver Linings Playbook
Emmanuelle Riva For Amour
Quvenzhane Wallis For Beasts Of The Southern Wild
So, this is probably the toughest category and has a slew of challenges. There's just no way they're going to give the award to Riva. No one has any idea who she is. It seems highly unlikely that Chastain or Lawrence would get it. They're just too pop culture-laden right now. That leaves Watts and Wallis. Neither would be there for me as Watts spends half the movie in bed and Wallis (then 6) was simply too young to know what she was really doing. I'm going to go with Watts who's due.
Best Director:
David O. Russell for Silver Linings Playbook
Ang Lee for Life Of Pi
Steven Spielberg for Lincoln
Michael Haneke for Amour
Benh Zeitlin for Beasts Of The Southern Wild
Russell has no shot even though the film is in every category. Spielberg is getting some mention but Lincoln just wasn't that impressive. I wouldn't be surprised if Zeitlin gets it but Ang Lee deserves it. Life of Pi must have been a real bear (or tiger) to shoot.
Best Movie:
Beasts Of The Southern Wild
Silver Linings Playbook
Zero Dark Thirty
Lincoln
Les Miserables
Life Of Pi
Amour
Django Unchained
Argo
I'm most disappointed by this list. I can see Lincoln, Les Miserables and Life Of Pi taking it and I'll go with the latter.
What's missing?
Helen Mirren in Hitchcock
Alan Cummins in Any Day Now
Ezra Miller in The Perks Of Being A Wallflower
Tom Hooper as Director for Les Miserables
Headhunters for Best Foreign Film
Jack Black for Bernie
Shirley Maclaine for Bernie
Maggie Smith for Best Exotic Marigold Hotel
I'll skip past the snubs for Best Film and wait instead until I unveil my own list in my yearly roundup in the next few weeks.