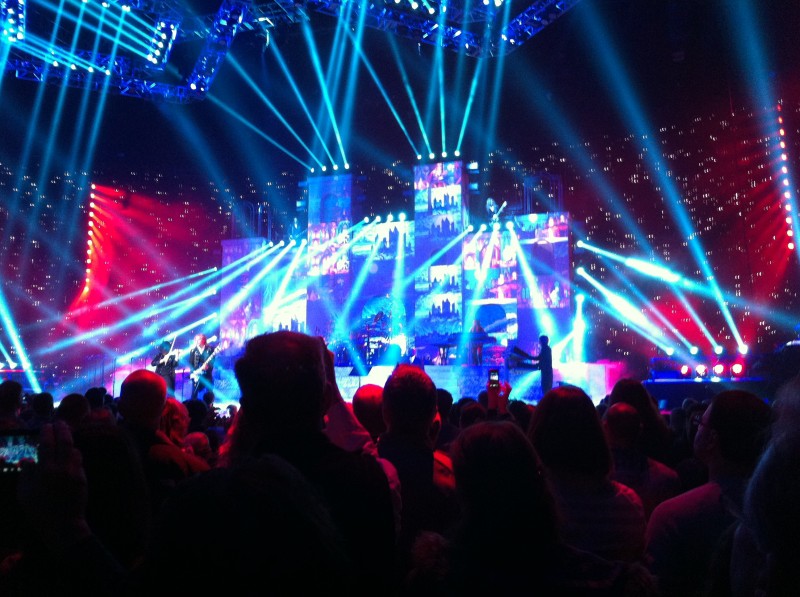 There are few firsts in your life, and they're almost always special. Music is in my blood and bones, so the first time I see an act in concert is (hopefully) memorable. Among those first concerts, there are very few of those that will remain with me forever. The first time I saw Kiss — my actual first concert — spoiled me forever as far as what I expect in a concert. Other significant first concerts (Alice Cooper, Metallica and Iron Maiden) all took place over 20 years ago, so it's pretty rare that I'm impressed these days. However, Green Day opened my eyes with their American Idiot tour, so I'll forever make an effort to see them. Well, I now feel like the bar has been raised once again after my first Trans-Siberian Orchestra (TSO) concert on December 21, 2013, in Philadelphia. Equal parts subtlety and spectacle, TSO's Winter 2013 tour combined everything that I love about live music and arena rock tours in over two hours of completely captivating, exciting music from a cast of experienced musicians and vocalists.
TSO has its origins in 1993 with producer/composer Paul O'Neill and musicians Jon Oliva, Al Pitrelli and Robert Kinkel, all of whom had connections to the heavy metal band Savatage. O'Neill produced some of the band's work, and Oliva certainly leaned toward the anthemic and theatrical with the Savatage albums Hall of the Mountain King, Gutter Ballet and Streets: A Rock Opera. (Parts of the latter two albums will be incorporated into a future TSO album.) It's amazing that what began as a side project of sorts for a band that never really hit it big has become a monster of an act that jumped right into arenas and concert halls and sold them out year after year. O'Neill didn't make an appearance with TSO in Philly this night — the only thing that would have somehow made the concert more perfect — but I did manage to catch him with TSO as the "house band" on Live with Kelly and Michael on their Christmas Eve show when a friend texted me about their appearance. I didn't realize this until later, but TSO is so popular that they divide up the country into halves and send out two touring lineups (West and East). It would be a treat to see the TSO West lineup as well because it includes Pitrelli, former Savatage bassist Johnny Lee Middleton and vocalist Jeff Scott Soto, a singer on TSO's Night Castle. The musicians and vocalists dress uniformly in basic black outfits, many of them with vintage-looking jackets lined with buttons, so they have a trademark look as well as presentation.
After an introduction of "Time and Distance" and "Winter Palace" [the latter from 2012's Dreams of Fireflies (On a Christmas Night) EP], TSO began their two-act show. (The complete set list is at the bottom of this review.) The first act was TSO's supposedly last tour performance of 2004's The Lost Christmas Eve (the last part of their Christmas trilogy), and the second act was a mixture of hits from their other albums. I'm torn between which act I liked more because they each have a different vibe. The first act followed the order of the album and alternates spoken segments from accomplished storyteller Bryan Hicks with instrumental tracks and songs that highlighted almost all of the 10 vocalists at some point. The story is about a man who abandons a son and is led back to him one Christmas Eve. It involves love, redemption, forgiveness and second chances — all concepts and emotions that are right in line with the holiday. Highlights of this first act included the iconic "Wizards in Winter," the fun "Christmas Jam" and the ballad "For the Sake of Our Brother." "Wish Liszt (Toy Shop Madness)" and "Christmas Canon Rock" were also standout numbers from the album that took on a different life in concert, especially with the precise projection system that turns the white castle shape on stage into various buildings and other locations to fit the songs. The last time I saw such realistic and controlled projections in concert was the recent Roger Waters tour of The Wall, and TSO has honed that to perfection. The first act proved that story and characters in a narrative presentation translate nicely from smaller Broadway-type theaters to arenas.
I had heard most of TSO's music over the years, but I just never made the jump between their albums and their tours. I'm sadder still that I somehow missed the hype that would have compelled me to buy a ticket. This familiarity with the music almost made the second act more enjoyable because it was a mix of numbers from TSO's entire career, including the five-track Dreams of Fireflies (On a Christmas Night) EP — two of which (the title track and "Someday") were performed in addition to "Winter Palace" from the opening. There were more traditional rock concert effects and moments in the second act, including the two platforms that were swung out over the audience in the opening and closing songs. "The Mountain" (from 2009's Night Castle) opened the set with lots of fire and a menacing dragon featured on the castle's video projection system. Every single song in the second set was a hit for the audience, and it was impossible to find the members of TSO without smiles on their faces in reaction to the audience participation. Early in the first act, guitarist Chris Caffery challenged the matinee audience to be louder and better than the audience for the night show would probably be. I'm sure that the applause and responses satisfied him and TSO. "Dreams of Fireflies (On a Christmas Night)" was especially prominent with the musicians jumping all over the stage in timing with the song's syncopated themes. The traditional "Carmina Burana" was never so good as in the hands of TSO and the accompanying flames. Caffery amused me with his ditching of the standard fake encores that happen in modern concerts and announced that the last two songs, "This Christmas Day" and "Christmas Eve (Sarajevo 12/24)" (originally a Savatage song on their Dead Winter Dead album), would be their encore without the whole drama of leaving the stage. TSO had me hooked from start to finish, and I seriously considered hanging out in the parking lot and buying a ticket for the night show.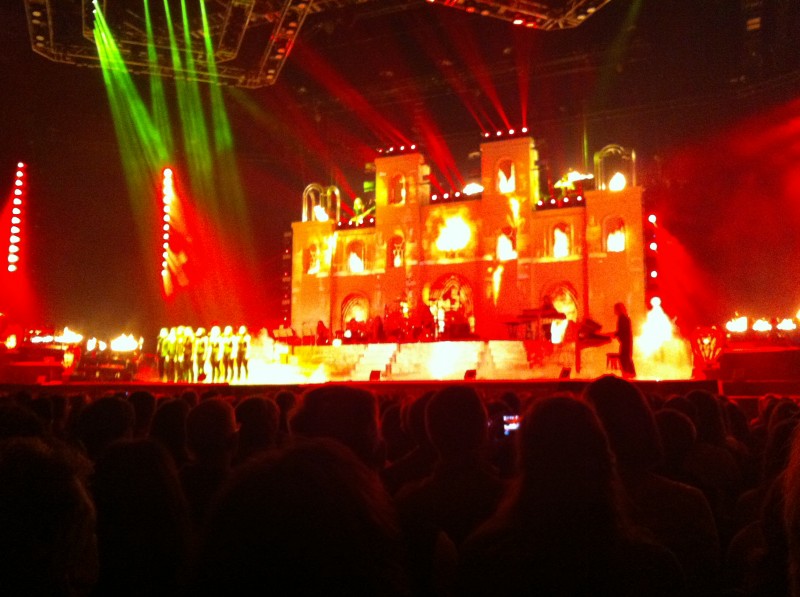 TSO's musicians were so effortless in their performance that it's hard to believe that they only put on shows for a few months a year. Led by music director and keyboardist Derek Wieland, the band also included Caffery — a front man of sorts, guitarist Joel Hoekstra, keyboardist Luci Butler, bassist David Z., drummer Jeff Plate (also formerly of Savatage) and Roddy Chong, a rather energetic violinist and "string master" (according to the program). In addition to listening to their music, it was a lot of fun watching the band. How many times do you go to a concert and at least one or two band members stand there and never move? Butler, Wieland and Plate are confined to their instruments by necessity, but Caffery, Hoekstra, David Z. and Chong moved around constantly from platforms on either side of the stage and also made some journeys to the rising platform in the back of the arena and the swinging platforms over the audience. I was impressed with their energy as well as their musicianship in not missing a beat and running the gamut from rock to metal to classical. I don't know where they get the stamina to do this twice a day. Another example of their humor and fun was the inclusion of a snippet of the iconic "Linus and Lucy" (started by Butler) from A Charlie Brown Christmas that had audience members doing their best impressions of those weirdly dancing Peanuts characters.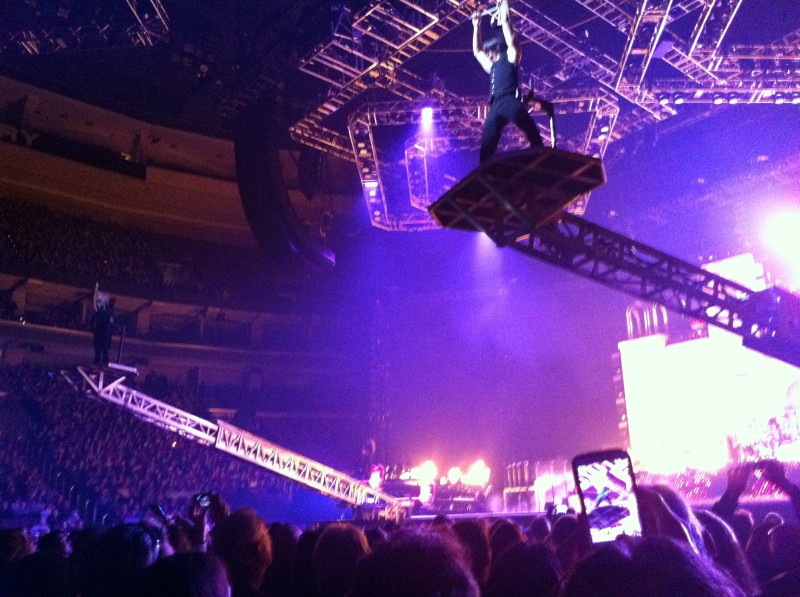 Most arena acts have just one vocalist with perhaps some background vocalists stepping up for a number or two. TSO had 10 vocalists as well as storyteller Hicks, whose beautiful, deep voice and pronunciation should really be incorporated into some songs in future shows. Every vocalist had a chance to shine during the show, and it must be a prerequisite for the female singers to have long hair because they swung it back and forth in time with the rhythm of "Dreams of Fireflies (On a Christmas Night)" as well as other songs. When I listen to a variety of singers, some are destined to stand out. It depends on the songs, but of the solos in the show, I was especially impressed by Erika Jerry in "For the Sake of Our Brother," Rob Evan in "Back to a Reason (Part II)" and Symphony X lead singer Russell Allen in "This Christmas Day," in which he had the audience singing along to the chorus. Kayla Reeves delivered such a powerful, emotional version of "Someday" with her gritty, raspy voice that it brought tears to my eyes. I defy you to find a clip from a TSO East concert on YouTube and not be moved.
Despite the timing of the tour with Christmas and the theatrical presentation of the first act, this is a concert after all. In addition to the aforementioned projection system and rising platforms, TSO incorporated just about every modern concert technology in their show except for confetti blowers. (Snow falling over the stage and audience was an acceptable substitute.) O'Neill and TSO refer to the stage as the "flight deck," and that comparison certainly suits the show with how much was going on. I really don't know how long TSO has to practice each song with the full staging because the timing of the lights, lasers, projections and pyrotechnics was wonderful. Many of the songs were like those videos you see of people timing the Christmas lights on their houses to music. It was that impressive. I've been ruined by Kiss to expect fireworks, flames and explosions during a concert, and TSO didn't disappoint me there, either. I first saw colored flames in Metallica's recent tour, and TSO's flames took on color as well as virtually danced in timing with the music. The fireworks during the finale didn't rise to the Mötley Crüe or Kiss levels of fireworks, but I was delighted nonetheless.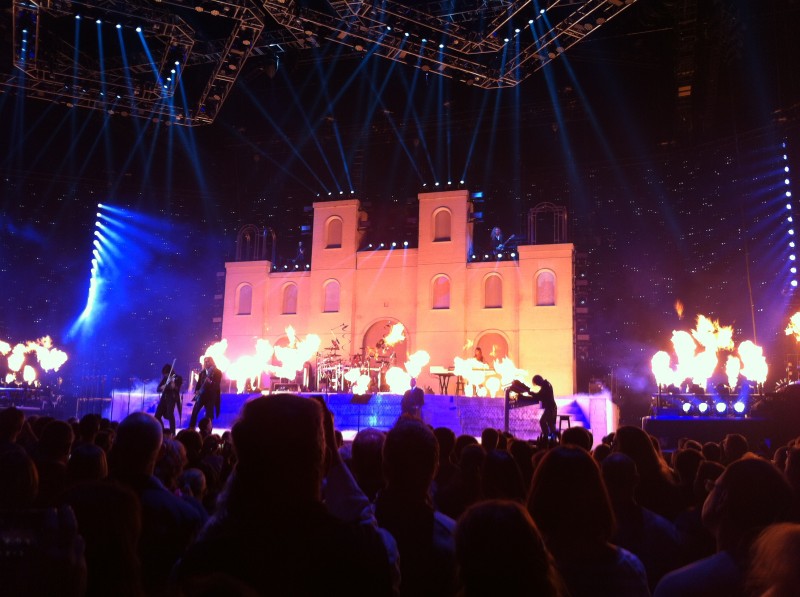 TSO sells out arenas all over the world every year, and I was happy to see the variety of people from all walks of life who attended the show. At the same time, I was amused by the secret to their shows' intensity that many people don't even understand. Given the connections to Savatage and other metal acts, O'Neill and the other members of TSO really took the grit and power of heavy metal and fused it with Christmas themes and other music that could easily be fed to concert audiences. Make no mistake about it: a TSO concert is every bit a heavy metal concert. What makes me laugh is that the same people who would cheer and love every minute of a TSO show would, not five minutes after they walked out of the concert, tell you that they don't like heavy metal if pointedly asked about their musical preferences. I love what TSO has created in a concert experience even more because they've brought people into the fold of hard rock and heavy metal fandom who don't even realize it.
It's also refreshing to actually hear a band say "Christmas" a lot instead of "holidays." Whether people want to accept it or not, it's OK to use the word "Christmas" and not offend people. I doubt that everyone in that audience was Christian, yet they seemed to be OK with the use of Christmas as a motif. Maybe music has the power to bring people together more than anything else. It's all about respect and acceptance. I'm Catholic, yet I'd be happy to attend a Hanukkah concert if it showed promise. As a bonus, if you bought the tour book, you got a copy of the CD for The Lost Christmas Eve inserted in the back. That's a classy add-on from TSO.
OK, TSO. You blew me away with this concert spectacle, so I can't wait until next year's show. You've got a lifelong fan now and a guaranteed audience member. Who knew that I could have such an awesome concert experience? I think that was the best Christmas gift I received this year.
Set 1
1. Time and Distance
2. Winter Palace
The Lost Christmas Eve
3. Faith Noel
4. The Lost Christmas Eve
5. Wizards in Winter
6. Christmas Dreams
7. Christmas Nights in Blue
8. Christmas Jam
9. Siberian Sleigh Ride
10. What Is Christmas?
11. For the Sake of Our Brother
12. Wish Liszt (Toy Shop Madness)
13. Back to a Reason (Part II)
14. What Child Is This?
15. Christmas Canon Rock
16. Different Wings
Set 2
17. The Mountain
18. A Mad Russian's Christmas
19. Someday
20. Sparks
21. Dreams of Fireflies (On a Christmas Night)
22. Carmina Burana
23. Beethoven
24. Requiem (The Fifth)
25. This Christmas Day
26. Christmas Eve (Sarajevo 12/24)