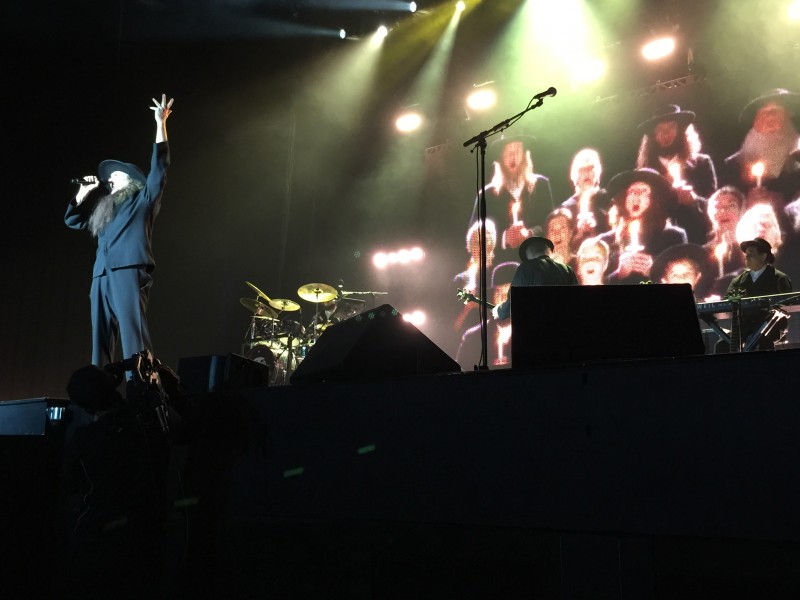 I first saw "Weird Al" Yankovic when I didn't even know that I was going to a concert. I was on a theme park trip in the mid-'90s to visit a friend in Southern California. He scheduled our day at Six Flags Magic Mountain to coincide with a Weird Al show. "We're seeing Weird Al today." I responded, "Oh, cool. It will be nice to meet him." He laughed. "No, we're seeing him in concert." I honestly didn't know what he meant because all that I knew about Weird Al came from his parody songs and videos. I thought that we were going to an autograph session or something. I had seen him on talk shows, but I had no idea that he performed live. That day expanded my concert horizons and made me an instant die-hard fan who catches Weird Al in all of his Philadelphia-area concert appearances. These include Atlantic City, Allentown, Glenside and his recent appearance in Bethlehem, PA, at the Sands Bethlehem Event Center in support of Mandatory Fun, his first number one album in his career. Weird Al and his longtime band members delivered a set packed with new songs and old favorites in a nearly two-hour show that pleased both the stalwart fans and first-time concertgoers like I was myself two decades ago.
For the uninitiated, "Weird Al" Yankovic has been releasing comedy albums and performing live for over 30 years. This past year has been his best in terms of worldwide reaction to his latest album and songs. He has really been following the same formula for the past 30 years, and for whatever reason, everything clicked into place now. Everyone is familiar with his famous parody songs like "Eat It," "Like a Surgeon" and "I Love Rocky Road." That's only one aspect of his music. There are three other types of songs that you can expect from a Weird Al album or concert. There are pastiches of other artists that are designed to sound like their songs. For example, "CNR" from Alpocalypse imitates The White Stripes, while "Craigslist" from the same album sounds like The Doors and even includes Ray Manzarek on the recording. Weird Al actually performs original songs like "The Night Santa Went Crazy" and "Melanie," and sometimes these originals are pastiches as well. Weird Al is well known for his accordion playing and can't parody all of the popular songs in full, so each of his albums usually includes a polka medley of hits and occasionally a full song like "Bohemian Polka" on Alapalooza. The polkas are some of my favorites because it's humorous to hear modern hits played with an entirely different rhythm.
Part rock concert, part comedy show and completely entertaining, Weird Al concerts are sure to please any music fan. By taking friends to concerts, I have turned on many of them to Weird Al as I was originally introduced to his music — boy, this is starting to sound like Scientology or Amway — and they remain fans to this day. You'll find at least two medleys — the latest polka medley as well as one with snippets of others parodies and hits — and this concert even had a third medley. Throughout the show, Weird Al and the band members accessorize and go through more costumes than even Cher in their full-on performance of the songs. I counted at least 16 costume changes, and some of them even occur in the medley. In a past tour, Weird Al peeled off layers of shirts during "You're Pitiful," ending up in a tutu. To accommodate the wardrobe switches, there are various clips, videos and fake interviews played on the video screens. Whether familiar segments from the film UHF or goofy bits in which Weird Al inserts himself into movie scenes or real interviews with silly questions, these parts of the concert will keep you laughing and occupied until Weird Al and the band return to the stage.
You don't read a lot about them, but the real secret to Weird Al's success beyond his comedic instincts and songwriting abilities is the band that has been with him since the beginning. Guitarist Jim "Kimo" West, bassist Steve Jay and drummer Jon "Bermuda" Schwartz are as essential to the recordings and live shows as Hawaiian shirts and a sense of humor. Keyboardist Rubén Valtierra is the "newest" member of the band, having joined in 1991. What makes these guys so special is that they both mimic the instruments in the parodies to make them sound as close to the originals as possible and also handily perform many different genres of music. You can't underestimate their skills, despite them poking fun at themselves with Schwartz's legendary two-second drum solos and Valtierra's interjection of familiar keyboard and organ tunes. They would be the perfect band for a late-night talk show, but fortunately, they remain loyal to Weird Al and his crazy ideas. In addition to playing their instruments, the band wears costumes for certain songs like the black suits in "Party in the CIA" and even loincloths on past tours for "Bedrock Anthem."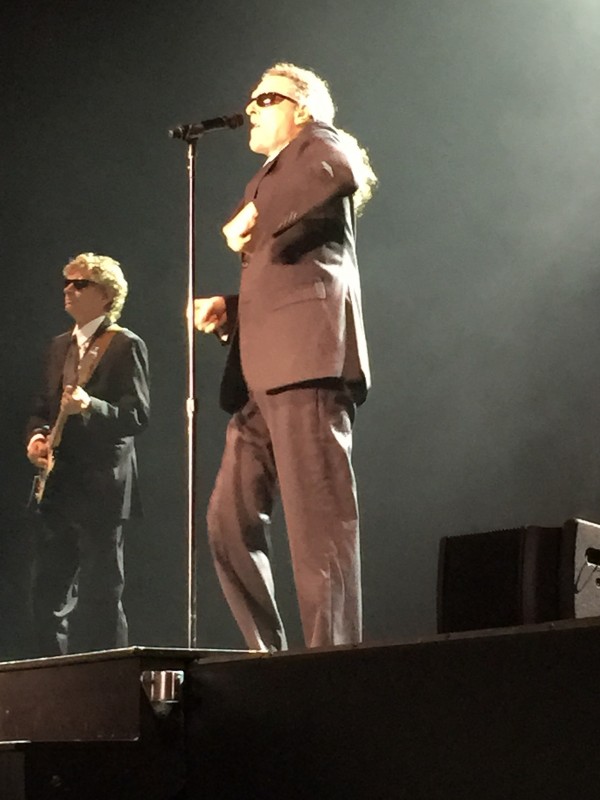 After the familiar instrumental "Fun Zone" from UHF and various clips, Weird Al made his entrance while performing "Tacky" (a parody of Pharrell Williams's "Happy") in one of the most creative and amusing beginnings to any concert that I've seen. That includes some memorable openings by Aerosmith, Kiss and others. I won't ruin it for you, but I'll simply say that you don't want to be late for a concert on the Mandatory Fun tour. "Lame Claim to Fame" continued the tunes from the latest album, and most of them were played completely or in part in a medley. (I'm including the full set list in white text at the bottom of the review. Just highlight the text if you want to cheat and see the songs.) Weird Al usually places his latest polka medley near the beginning of the show, and "Now That's What I Call Polka!" didn't disappoint with its polka versions of Miley Cyrus's "Wrecking Ball," One Direction's "Best Song Ever" and Carly Rae Jepsen's "Call Me Maybe," among others. After the polka medley, Weird Al and the band changed outfits for almost every song from there on out, which turned the concert into a whirlwind of activity as the performers bounded on and off the stage and the video screens poured forth all kinds of hilarity.
If the polka medley wasn't enough, Weird Al and company performed two others, which roughly occurred in the middle of the show. The first was a collection of snippets of some numbers or certain songs in their entirety. This one began with "Party in the CIA" (a parody of Miley Cyrus's "Party in the U.S.A.") and also included "Another One Rides the Bus" and "Canadian Idiot." Although I'd like to hear some of these songs in full, I'll take what I can get. Even more surprising was a third medley performed acoustically that somehow worked as yet another fun way for Weird Al to perform familiar hits. The band sounded like a casino lounge act, which was strange for a song like "Eat It" (a parody of Michael Jackson's "Beat It"), but the crowd went along for the ride.
Weird Al has made it tougher on himself over the years to put together a concert because fans expect certain songs. "Fat" (a parody of Michael Jackson's "Bad") was moved from its traditional place at the end of the main set to a spot earlier. I always thought that it was saved for last because of the enormous fat suit that Weird Al wears, but I guess that's just another costume that he can get into and out of at will. "Smells Like Nirvana" and "Amish Paradise" are also concert staples that never fail to pump up the crowd. Ever since the Poodle Hat tour, "Wanna B Ur Lover" has turned into a highlight of the show with Weird Al donning a particularly loud suit and both singing to and rubbing up against audience members as he makes his way through the crowd. The encores paired his Star Wars-themed songs with costumed performers as stormtroopers and Darth Vader lining the stage.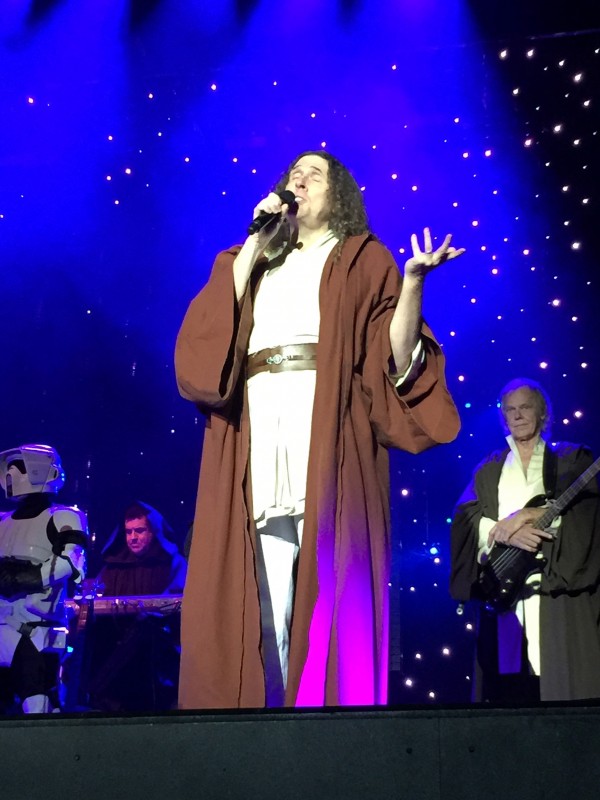 Even those who have seen Weird Al on previous tours will find plenty of new elements to make the trip to the arena worth it. In addition to familiar clips like an interview with Celine Dion and a trailer for Gandhi II, one interview with Eminem gained new life as the perfect intro to one of the newest songs. Weird Al donned a different, even more outrageous costume for "Perform This Way" to replace the peacock costume from the last tour. "Wanna B Ur Lovr" let Weird Al have fun with the audience, and he hammed it up as he strutted through the spacious casino arena. I expected the clay animation video for the song "Jurassic Park" to appear on screen between songs and take advantage of the release of Jurassic World. The dinosaurs didn't roar in Bethlehem, but here's the fun video anyway.
A Weird Al concert is pure fun from start to finish, and I already look forward to seeing him again in Philadelphia later on this tour. He has said that Mandatory Fun might be the last traditional album for him with future songs and parodies released more timely via digital delivery methods. I hope that's not the case because his albums both serve as pop culture time capsules and evoke fun memories. I would love to see a concert tour of all of his polka medleys as well as a few classics, but would Weird Al consider that too weird? In a famous clip from The Simpsons, Homer Simpson remarks that "He who is tired of Weird Al is tired of life." I can't imagine ever tiring of "Weird Al" Yankovic, and my first concert on the Mandatory Fun tour reconfirmed my commitment to always making time for him when he's on the road.
1. Tacky
2. Lame Claim to Fame
3. Now That's What I Call Polka!
4. Perform This Way
5. Dare to Be Stupid
6. Fat
7. First World Problems
8. Foil
9. Smells Like Nirvana
10. Party in the CIA/ It's All About the Pentiums/ Handy/ Bedrock Anthem/ Another One Rides the Bus/ Ode to a Superhero/ Gump/ Inactive/ eBay/ Canadian Idiot
11. Wanna B Ur Lover
12. Eat It/ I Lost on Jeopardy/ I Love Rocky Road/ Like a Surgeon
13. White & Nerdy
14. Word Crimes
15. Amish Paradise
Encore:
16. We All Have Cell Phones
17. The Saga Begins
18. Yoda