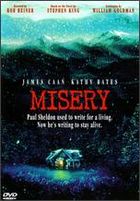 Ah, February! It's the start of a new month, a new movie week and a new chapter in my writing with this blog. Longtime friend and collaborator/cowriter Rich Heimlich invited me to add my thoughts to his site, which means that I will write about all of the movies I see — a lot! — as well as games, concerts and other things that strike my fancy. He convinced me to take advantage of his established blog, so I don't exactly know who the audience is at this point. Please write and offer your comments. I can take it.
I wrote professionally like Rich for many years, but lately, all of my writing has been more private. Another friend, Johanna Sisto, inspired me to write a review of the play Misery at the Bucks County Playhouse. Here's my review of Misery as expertly laid out by Johanna. The play and source book are about a writer's troubles. This was a perfect opportunity for me to start writing again, and it opened the floodgates. I started posting reviews of all of the movies I saw since the play on Facebook, and Rich and others saw this and suggested that I write a blog instead of inundating my Facebook friends with my writings.
I don't know if I'll find a "number one fan," but I hope that my reviews, features and other pieces won't cause someone to pick up an axe.