Last night the Flyers played the New Jersey Devils and there were a number of coincidences that were curious.
First, just like in the previous game (also against the Devils) the Flyers fell behind 2-0 and came back to win 3-2. However, in this game an apparent goal by the Flyers Scott Hartnell was disallowed. This was very similar to my earlier Flyers post when Simon Gagne was robbed by officials in a game against the Pittsburgh Penguins (and which later cost a TV station employee his job).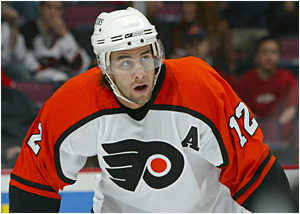 In this game future Hall of Famer Martin Brodeur made what looked to be a miraculous save against Hartnell until the view from above was shown. Once again the on-ice officials didn't call it a goal even though this top view angle would have had to defy physics for it not to be a goal. On frame-by-frame replay you can see through the webbing of Brodeur's glove and watch the puck clearly cross the goal line. Once again, however, the officials back in the league offices in Toronto blew the final call and judged it not to be a goal. The end result was that the game first ended in a 2-2 tie sending it into overtime where the aforementioned Simon Gagne scored the winning goal. In fact, Gagne looked like he was possessed on that final shift pulling off moves I haven't seen from him in ages and practically willing the puck into the net.
Having been denied the goal in Pittsburgh he now gets one that, in all honesty, shouldn't have happened and only became possible due to the earlier blown call. Thus, this shows that most things have a way of working out. One blown call robs him of a goal and another gives him the chance to get it back.
So now the big question I have is when does Scott Hartnell get his robbed goal back?