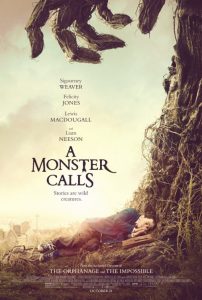 A young boy finds his dreams tormented by a persistent ages-old tree in A Monster Calls.
Every time that I take my seat in a theater, I wonder if the film that I'm about to see will manage to make a lasting impression. Director J.A. Bayona's latest masterpiece not only left a mark, but it also scarred my very soul. Bayona is quickly becoming one of my favorite directors, having previously helmed 2012's survival tale The Impossible and 2007's wonderfully unforgettable The Orphanage. Each of his films plays with your emotions like a master painter plays with colors.
This symbolic journey of a child's attempt to cope with the unthinkable will haunt anyone who has ever lost a loved one. Its beautiful visuals and immersive soundtrack are intensely captivating. Voicing the fantastical tree in the fragile imagination of young Conor (Lewis MacDougall), Liam Neeson is flawlessly cast. As Conor's ailing mother, Felicity Jones gives us the most honest portrayal of her career. Sigourney Weaver (as Conor's distant grandmother) and young MacDougall both struggle a bit to find their way, but they ultimately do just that. Some will no doubt find the fantasy elements to be too much. For the rest of us, it's a film with a message that will resonate for years to come.