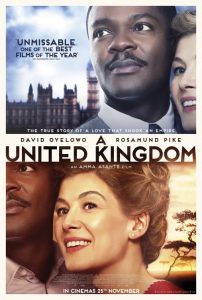 An African Prince creates an international incident by marrying a white Londoner in A United Kingdom.
This is the biographical story of the would-be King of the future Botswana and his unflappable love for his white wife and his African people. Such a marriage is often challenging today, let alone in 1947. Seretse Khama (David Oyelowo) and his wife Ruth (Rosamund Pike) endure not only the judgment of their own families, but also that of Seretse's citizens and the whole of the United Kingdom.
Director Amma Asante, who brought us the equally engaging 2014 film Belle, returns with a heartwarming, true love story that willingly steals a few tears. This nearly-two-hour film rarely feels slow. The political intrigue that engulfs the Khama clan beats with the intensity of a dozen jackhammers. The capping touch is the chemisty between Oyelowo and Pike that completes the immersion. It's the kind of hopeful underdog tale that any parent should strive to share with their children and the kind of film to which we all should look for inspiration when we feel down.