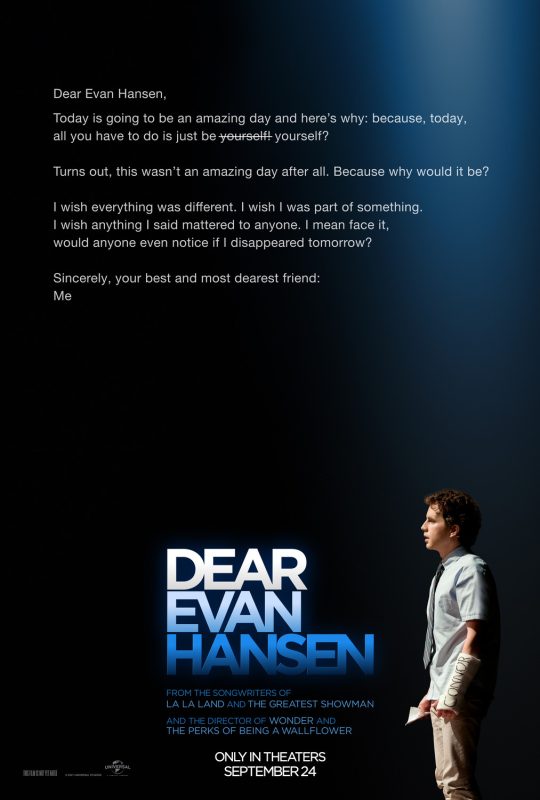 Stage musicals often take a transformative journey from Broadway to the silver screen. In some cases, the moves result in expansive versions that take advantage of the freedom of movies. Think of West Side Story or Les Misérables. Disney has been going even further by developing musicals from animated properties (Beauty and the Beast, Aladdin and The Lion King) and then turning them into live-action amalgams of both sources. Hit musical Dear Evan Hansen was bound to earn a movie treatment from the moment that it received various Tony Awards. I'm so glad that I watched a video of the full show with the original cast before I saw this film to give me a better perspective of what changed and what works in the new medium. Dear Evan Hansen highlights the moments and songs that define the musical while trying some new things with mixed results.
Director Stephen Chbosky has experience with presenting children as authentic in Wonder and The Perks of Being a Wallflower, so he fits right in with this story. As the writer of the musical's book, Steven Levenson brings his knowledge of the characters and their development to the movie. The Evan Hansen (Ben Platt) of the title could best be described as a high school loner with no real friends and a shyness so palpable that you get nervous just watching him. Sporting a cast on his arm after a summer accident, Evan balances schoolwork with assignments from a therapist that lead to writing letters to himself that all start with the title's three words. Another student named Connor Murphy (Colton Ryan) kills himself and has one of Evan's letters in his pocket. His family believes that the boys were secretly best friends, including his sister Zoe (Kaitlyn Dever), whom Evan has admired from afar. Evan's sorta friend Jared (Nik Dodani) helps Evan create an entire fake history and friendship to make the Murphys feel better about Connor's death while digging a deeper hole for himself with each action.
Platt originated the role of Evan, so it was imperative that he continue his association with the musical rather than the filmmakers taking a chance on someone new. I don't know what he's like in real life, but if he's at all outgoing, he does a great job acting as the nebbishy kid as well as delivering the goods vocally. I don't know why he has curly hair in the movie, and it was a little distracting at first. Dodani and Ryan play smaller parts here, a decision that accentuates the females in the production. Alana Beck (Amandla Stenberg) helps turn Connor's death into a positive with a charity effort called The Connor Project, a plotline that gets a bigger push and a new song that Stenberg delivers with such strong emotion. Dever has a sweet voice and impressed me with her singing as much as her breakout role in Booksmart. Amy Adams and Daniel Pino have smaller roles as the parents of Connor and Zoe, and Julianne Moore notches even less screen time as Evan's single mother. Adams goes underused — she's a Disney princess after all with Enchanted — just like Moore because two of their songs from the original show were cut.
In addition to missing songs ("Anybody Have a Map?," "Disappear," "To Break In a Glove" and "Good for You"), fans of the show will notice a few other changes. Jared's last name now matches the heritage of Dodani, something that's minor. However, it's unclear why the filmmakers changed Connor's father to a stepfather. With the increased presence of Alana, Connor and Jared almost become background characters. The musical's staging had a number of moving screens to represent the messaging and videos shared by the characters. It's much more powerful to see the actual phones and computer monitors than to strain to see what's on a screen on stage from a greater distance. The film's impactful use of real locations (a school, an orchard, etc.) wins points over the minimalist sets for the musical. The filmmakers attempt to correct the opinions of some fans about Evan's fate with a different ending that only partially works. Most importantly, Chbosky visually, emphatically shows the truth about how Evan broke his arm, which audiences may have missed in the musical because it's confined to just a couple of lines of dialogue.
Pasek and Paul (Benj Pasek and Justin Paul) wrote all of the songs and lyrics for Dear Evan Hansen. This impressive success for the pair led them to reach even higher by writing the lyrics for La La Land's songs and similarly creating all of the numbers for The Greatest Showman, a movie musical where every song's memorable. Notably, everyone sings live and even goes from dialogue to singing seemingly in the same breath. Les Misérables proved that this is the better way to film a musical. This show's songs grew on me over time. Chbosky captured the moments that work so well on stage in his version like the quick edits and random, carefree dancing in "Sincerely, Me." It's a song that breaks down Jared's fake letters between Evan and Connor and also benefits from quick cuts on film of Jared's various versions of Connor's words. The musical's megahit "You Will Be Found" pops up occasionally in singing competition TV shows, so I was familiar with it before seeing the musical or the movie. Chbosky multiplies the impact tenfold of many people delivering the song's message with dozens of video clips. That message of being somebody transfers over to the new songs "The Anonymous Ones" and "A Little Closer," the best results of taking another crack at the story. The Greatest Showman generated a separate soundtrack of popular musical acts recording the numbers, whereas the Dear Evan Hansen soundtrack fits in some of the same kinds of tracks like Sam Smith and Summer Walker performing "You Will Be Found" and SZA interpreting "The Anonymous Ones" — both heard during the credits.
I know that film producers have tried to make movies from other hit Broadway shows, and I would caution them to leave well enough alone in most cases. Both Aladdin and Beauty and the Beast took on new life on stage as truly magical productions and didn't impress me as much as live-action movies. When you see a show like Dear Evan Hansen live, you're far more wrapped up in every moment because the cast is right there in front of you. I found myself lost in some scenes in the movie because of pacing and the balance between music and drama. Despite the new songs and solid performances, the filmmakers didn't need to "fix" Dear Evan Hansen to enhance a message that already spread to audiences and, now, moviegoers.