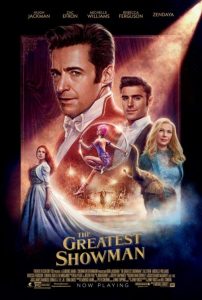 I'm a sucker for great musicals. Although there's no evidence that P.T. Barnum actually said it, "There's a sucker born every minute" might refer to me and how my mother made sure that I was exposed to musical theater at a young age. I can't explain why I like musicals other than to acknowledge that I feel the exceptional ones deep down in my soul. When I first heard about The Greatest Showman, I honestly expected the worst. With the dreaded PG rating for a live-action film, I was sure that Hugh Jackman would be singing ridiculous songs about elephants, tigers and aerialists… oh my! I couldn't be more wrong. From the opening seconds, this classic hooked me and didn't let go. The Greatest Showman celebrates the downtrodden people, outcasts and defiant dreamers in a musical that you didn't know that you needed to see.
The film had a long journey from concept to screen, and central to its evolution was star and advocate Jackman. Michael Gracey makes his directorial debut here with work that he's going to have a hard time topping. With previous experience in special effects and direction of a Natasha Bedingfield video, Gracey starts strong with this hit movie and a lot of wonderful touches that visually connect the story, songs and characters. The script by Jenny Bicks and Bill Condon — no stranger to musicals himself with credits that include Dreamgirls and the live-action Beauty and the Beast — focuses on the life and career of Barnum (Jackman) as well as his family and the human oddities in his New York City museum. With an outstanding selection of songs from Benj Pasek and Justin Paul, the plot details Barnum's rise from poverty to assemble unusual talent and promote it to the masses.
Jackman may not look at all like the Barnum in historic photos, but he certainly captures the spirit of the man and fits the role perfectly with his background in musical theater. The timeless Michelle Williams portrays Charity Barnum and shows off her pretty voice in a couple of numbers just in case you forgot that she can sing as well as act. As Barnum's protégé Phillip Carlyle, Zac Efron brings his youth and own musical experience as a nice counterpart to Jackman. Last seen in Spider-Man: Homecoming, Zendaya stands out as trapeze artist Anne Wheeler, and her budding romance with Carlyle addresses the racism of the time in a scene and love song like no other. Rebecca Ferguson follows her role in The Snowman with a few scenes as songstress Jenny Lind and a showstopper that will leave the audience breathless. Although mostly background performers, the freaks and oddities who make up Barnum's shows are embodied by bearded lady Lettie Lutz (Broadway star Keala Settle), who belts out the film's anthem "This Is Me," and Australian actor Sam Humphrey as Tom Thumb.
Although many musicals stage their numbers on one set and simply switch locations with songs, The Greatest Showman exhibits fluidity in editing and creative choreography that make each song unlike the others, even using a "bullet time" effect once to punctuate the action. "A Million Dreams" spans both time and locations effortlessly as Barnum promises Charity and his daughters a life full of imagination. "Rewrite the Stars" showcases wire stunts as well as Efron's and Zendaya's vocal gymnastics. Most amusing to me are the songs that largely play out in a taproom and on its bar with controlled chaos in the tight space and shots drunk in time with the music by Jackman and Efron in "The Other Side." The more ambitious staging takes place in the performance spaces of Barnum's museum and circus with characters flipping and dancing left and right as CGI animals join the fray and you even follow Barnum's hat from his head and back to him again. The filmmakers deserve a tip of the hat for even including original Siamese twins Chang and Eng, here dancing and performing somersaults in unison.
Although the action and drama define the characters, the music gives life to the film itself. Pasek and Paul outdid themselves after contributing lyrics to La La Land's songs. I haven't yet heard or seen the duo's hit musical Dear Evan Hansen, but The Greatest Showman convinces me that I must. A chorus of voices sings an extended note to introduce opening number "The Greatest Show" during the titles, and from that moment on, every single song without exception blew me away with their energy, emotion and lyrics. I haven't had this kind of reaction to a movie's original music since walking out of the theater after seeing Frozen. The cast performs most of the songs themselves with the notable exception of previous The Voice contestant Loren Allred, who sings "Never Enough" for Ferguson. That pairing of acting and singing brings tears to my eyes every time. "This Is Me" defiantly celebrates diversity and individuality like nothing I've seen since maybe Frozen's "Let It Go" or Wicked's "Defying Gravity." A song that strong might overshadow the beautiful "Rewrite the Stars," which has its own reprise over the credits.
As you can tell, I can't find many weaknesses with the film. 2012's Les Misérables spoiled me with its live singing, so the necessary lip synching here took a little bit of adjustment. A few lines here and there that are sung live reinforce that feeling. It would have been nice to find out more about the lives of Barnum's performers, many of whom aren't even named or introduced, but I understand that this is Barnum's story and not theirs per se. As much as I love this film and went to see it twice more, I couldn't bring myself to see the sing-along version. I don't want to hear the audience. However, Gracey smartly has the crowd in performance scenes sing the chorus back to the cast, and I was surprised to hear audience members spontaneously join in. That's how much that they were drawn into the experience. I wouldn't be surprised if a Broadway adaptation is in the works as a logical progression. I'm already sold. The Greatest Showman once again proves that original musicals can work magic when all of the stars align.