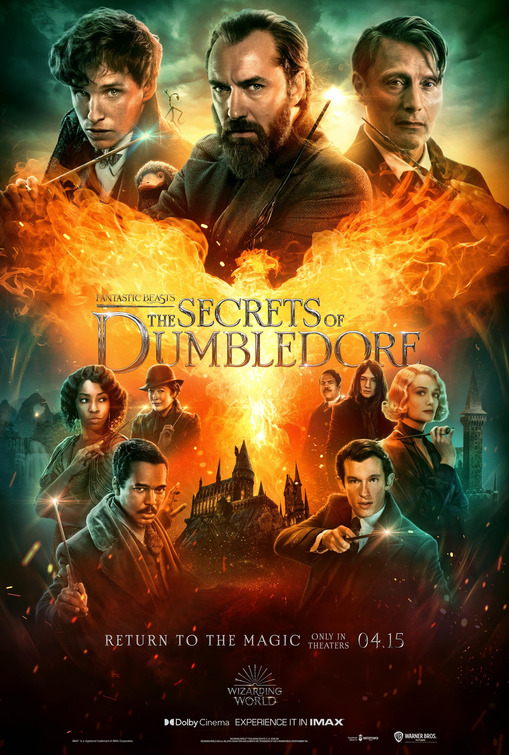 I had great hope for the new series set in the Wizarding World with Fantastic Beasts and Where to Find Them. After all, almost everything was new, and filmgoers got a chance to see what kind of magic goes on here in America. The proceedings took a darker turn with Fantastic Beasts: The Crimes of Grindelwald and its division of the wizards and witches into factions that either supported or rejected the powerful titular wizard. Sadly, this third film in what looks to be a continuing series lost almost all of the excitement and, indeed, magic, of the original. Instead of focusing on the characters introduced in the series, this outing turns into a therapy session for Albus Dumbledore as he tries to redeem himself for his mistakes and save the world. This outing suffers from long stretches of tedious scenes and a running time that's at least a half-hour too long. Fantastic Beasts: The Secrets of Dumbledore substitutes politics and tyrannical behavior for the fun creatures and captivating missions to transform this experience into a double bore.
I'm not sure where things went wrong here, especially considering that the filmmakers have a long history with the Harry Potter franchise as well as the Fantastic Beasts movies. Director David Yates helmed the last four Harry Potter films along with all three Fantastic Beasts releases. Writer and Harry Potter creator J.K. Rowling wrote the previous two movies solo, but veteran Harry Potter screenwriter Steve Kloves joined her for this one. Maybe he was brought in to fix it? Who knows. Anyway, Dumbledore (Jude Law) plans to stop Gellert Grindelwald (Mads Mikkelsen) from taking over both the magical and non-magical worlds. Unfortunately, some past bond prevents either from acting against the other, so Dumbledore puts together a team to thwart the wizard. Series hero Newt Scamander (Eddie Redmayne) and non-magical baker Jacob Kowalski (Dan Fogler) join Newt's brother Theseus (Callum Turner) and others for some sneaky missions to fool and take down Grindelwald. Like a giant game of wizard's chess, Dumbledore dispatches his pieces to end up in just the right locations to possibly succeed.
Johnny Depp is currently in the midst of the trial about the incidents that got him canceled from the role of Grindelwald. Does Mikkelsen seamlessly slip into this role? Absolutely. It would have been nice if a single line of dialogue had at least explained the change in the wizard's visage. The filmmakers just assume that everyone knows what happened. Mikkelsen has played both Hannibal Lecter on TV and bond villain Le Chiffre in Casino Royale, so a maniacal power-hungry wizard feels right. Redmayne's timid magizoologist doesn't get as much to do here besides an opening sequence in which he defends a rare, mystical creature known as a qilin. Law further establishes his interpretation of a younger Dumbledore, and as the series goes on, I hope that he appears again even in a limited capacity. With sisters Queenie Goldstein (Alison Sudol) and Tina Goldstein (Katherine Waterston) all but out of the plot, Jacob has a different vibe this time. The wand without a core that Dumbledore gives him sadly symbolizes the larger reality that the central relationships and magic that defined this series have gone missing as well.
Details about characters and events and a few fabulous sequences kept me from hating this film outright. Rowling has mastered the ability to drop in pieces of information or introduce characters or creatures for a singular purpose that may or may not pay off in the future. A segment in a cave stands out as Newt searches for Theseus because it both introduces scorpion/crab-like creatures and turns into a pulse-pounding action sequence. Had there been more scenes like this one, my excitement would have gone up. The plot explores the history of the Dumbledore family in a way that would have felt just as much at home in one of the Harry Potter films. The variety of locations includes both familiar sites in and around the Hogwarts School of Witchcraft and Wizardry and new settings in Berlin and Bhutan. I have a soft spot for the cuddly, mischievous niffler that likes to steal shiny objects, so I loved Newt's niffler's antics throughout the movie as well as those of his feisty leaf-like bowtruckle. The aforementioned qilin and a birdlike entity that can expand like a pufferfish are all that I remember as far as new beasts.
The story ultimately fails to deliver because all of the politics overshadow the magic and wonder. There's a case to be made that the plot reduces to a rigged election, and we've had enough experience with that in the real world to want it in a movie that should have been about something else. In addition to the reduced plotline of Jacob and the Goldstein sisters, Credence Barebone (Ezra Miller) has just a few scenes after figuring so prominently in the past. Series often evolve over time — look at the titles in The Fast Saga for a dramatic example — so some of that was to be expected. With the focus on Dumbledore, the story feels like an extension of Dumbledore's backstory that Rowling didn't shoehorn into the Harry Potter books or films rather than the exciting new path that was established in the first movie. A couple of accepted notions — one character can see the future and neither Dumbledore nor Grindelwald can attack the other — fall apart upon further scrutiny. The ways around these plot points feel like lazy writing.
Despite my misgivings about the latest entry, I enjoy the expansion of the Wizarding World that the series represents. Rather than give Jacob a wand without a core, how about sending him to a wizarding school for real? Action sequences and fun creatures trump drawn-out dialogue every time. I have no doubt that Grindelwald and Dumbledore will resurface in future films. It would be better if they took a back seat to other characters, events and, uh, beasts. Fantastic Beasts: The Secrets of Dumbledore fills in some holes in the history of the Wizarding World at the expense of the amusement that you expect.