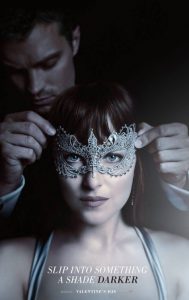 A billionaire tycoon finally lets down his lifelong guard for the one woman who can satisfy him in Fifty Shades Darker.
The second story in E. L. James's smash book trilogy (and the sequel to Fifty Shades of Grey) falls about forty shades off the mark. One of the few high points of the previous film was its solid direction. This time around, we get a film that feels far more like a sappy soap opera. I guess that's not much of a surprise given that both the previous director and writer were sacked — without the hot spanking to go with it. The director used to be somebody 25 years ago, and the writer is none other than James's husband. I'm sure that had nothing to do with it, so what's on their respective résumés of late? Sappy, soapy TV shows, of course. Color me any color other than grey.
There's just nothing here to get excited about, literally. Sure, we see some skin and a slap or two, but this is supposed to be racy stuff. It doesn't help that Dakota Johnson and Jamie Dornan have zero chemistry. They both look and act as if they've got more pressing business away from this film. So do we.