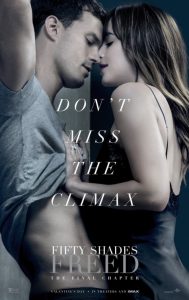 A happy, well-to-do couple finds that marriage brings not only new benefits, but also new challenges in Fifty Shades Freed.
When we last left Anastasia (Dakota Johnson) and Christian (Jamie Dornan) in Fifty Shades Darker, the two were altar-bound — for better or worse. This last film in the series based on E.L. James's surprisingly successful novels picks up the story as the two take their first steps into matrimony. Of course, marriage does little to change Christian's views of how his playmate should conduct herself. He's upset at her desire to continue working. He's upset at her dismay with her newfound loss of privacy. Let's just say that he spends most of the film upset about pretty much everything. For a couple so in touch with their bodies, they seem to have no idea about the mind. They can talk about bondage endlessly, but didn't they think to discuss the expectations of married life?
The entire film feels like it's stuck in a post-coital coma, drained of all energy with little desire to do much of anything beyond just existing. We're as bored with them as they seem to be with one another. Even the supposedly sensual sex scenes feel forced — not in the good way. The plot just goes through the motions until it, too, just gives up in frustration. It's then that the film tries to transform into a lackluster late-night thriller complete with its own annoying commercials, mainly for a car company. As a thriller, it's little more than filler. The antagonist is dull, annoying, poorly conceived and even more poorly portrayed. A soap opera episode feels more genuine.
For all its cutesy double entendres and sexual innuendo, the payoff doesn't even approach a happy ending. It's as titillating as a trip to the dry cleaners. For those that recall Anastasia's safe word, it should have been screamed from the rafters at the end of the last film. The only good thing about this effort is that it marks the end of an affair into which we never should have entered. This assumes that the studio doesn't try to carry on with a chapter of their own creation. RED! RED! RED! For the love of God, RED!!!