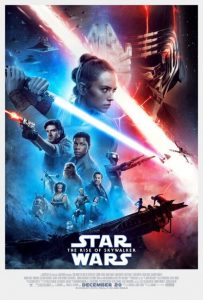 It took over 40 years to get to this point in the Star Wars saga. Creator and writer/director George Lucas promised nine movies all of those years ago, and here we are, even though he relinquished control to Disney for the final three movies. Although I missed seeing Star Wars and The Empire Strikes Back in theaters in their original run, I managed to catch all of the other films on the big screen where they're meant to be experienced. Star Wars: The Rise of Skywalker delivers what fans want like a checklist on a prix fixe menu — spaceship combat, lightsaber battles, droids, humor, aliens and surprises. Keeping with the food analogy, the finale is like a gourmet meal in a fancy restaurant. The chef presents small portions on a large plate with panache and food artistry; the meal looks and tastes great, but it leaves you hungry for more that could have easily fit on that plate. Star Wars: The Rise of Skywalker ties up some loose ends amidst a quest to eliminate another threat to the Resistance, yet it doesn't provide all of the answers to questions raised throughout this trilogy.
Writer/director J.J. Abrams hit a home run with the nostalgic Star Wars: The Force Awakens, so it was appropriate that he returned to the director's chair after Rian Johnson's not-as-strong Star Wars: The Last Jedi. Cowriter Chris Terrio also wrote Argo, Batman v Superman: Dawn of Justice and Justice League, so the Ben Affleck connection is strong with this one… for better or worse. Abrams and Terrio send the main characters all over the galaxy looking for items that they need in a fractured narrative that mostly serves as a way to take us to new locations with new characters. Rey (Daisy Ridley) trains with Leia (Carrie Fisher digitally added from extra footage) and the Resistance. Kylo Ren (Adam Driver) actively hunts down enemies while investigating a possible resurgence of the evil Sith. When the Resistance learn of the Sith and a mysterious device that will lead them to the hidden Sith location, it's all hands on deck to find this object and put together a force to destroy the Sith and the First Order led by Kylo Ren once and for all. Poe Dameron (Oscar Isaac), Finn (John Boyega), Chewbacca (Joonas Suotamo) and droids C-3PO (Anthony Daniels), R2-D2 and BB-8 support Rey in her efforts and have their own adventures along the way.
This third trilogy focused on Rey, and she's arguably the best, strongest, most fully realized female character in the saga. With this character, Ridley established herself as an actress to watch and follow, and although this may be the last that we see of Rey, Ridley will have a long and storied career. Driver has already gone on to other movies and projects. Although Kylo Ren doesn't annoy me as much here as in the previous film, there's still a touch of his whiny frat boy side. Even his own First Order underlings laugh at his obsession with his helmet and physical appearance. The character simply transcends Driver's almost perfunctory performance. Isaac and Boyega deserve their own movies focusing on their characters. They're the secret ingredients to this trilogy with so much more in their backgrounds that demands exposition. There are so many characters loaded into this plot that their actors don't get enough time to shine. Kelly Marie Tran should have graduated to a major role after her impressive introduction in the last outing, yet she's relegated to a support role. Rather than add Keri Russell and Naomi Ackie, who have their moments, I would have yielded their screen time back to Tran. Fisher's daughter Billie Lourd continues her appearance as essentially a background character. Abrams favorite and Lost alumnus Dominic Monaghan only appears for a few minutes, and in the fashion of his Lost character, he might as well have written "NOT DOMINIC'S MOVIE" on his hand to show the audience.
Every single Star Wars movie leaned heavily on spectacle, and this one keeps the tradition going. The space battles are massive and could only happen with digital assistance rather than the traditional models that they used way back in the '70s. Although desert scenes were filmed in real-world locations, most of the rest melded film sets with computer effects that are so seamless that I don't even bother guessing how they do it. A festival looks too much like an outer space Burning Man, yet the activity and colors add controlled chaos to the adventure not unlike the famous cantina scene. The breathtaking scenes in the destroyed Death Star and the nearby ocean bring the kind of gravitas to the film that I expect for what happens there.
Each film introduced new elements as well as familiar tricks, and although it might be a little late for each of these, fans will enjoy the revealed abilities of the iconic spaceship Millennium Falcon as well as ordinary stormtroopers. Depictions of The Force and lightsabers varied over the saga; I'm pleased with the special effects used to represent these powers. In fact, Rey uses The Force in unexpected ways, and fans will be giddy. Luckily, the found footage of Fisher as Leia was enough to make her presence known in this outing. If I didn't know better, I'd swear that she filmed this movie on set with her costars. Her scenes with Ridley brim with emotion for both the characters and Fisher. I was surprised by two obvious faux pas with mechanical devices. Kylo Ren hooks up this kind of Sith GPS to his TIE Fighter, and I immediately thought of the flux capacitor from the Back to the Future series. Oops. Even worse, the new droid named D-O looks a lot like a badminton birdie sitting on a tire, and it even receives ridicule in the film when someone calls it a "conehead."
Fans will nitpick about this movie for a long time… until news about the eventual next trilogy begins. Although I'd rather discuss what's missing more than what's there — I won't be specific because we don't spoil movies here — one obvious poor plot choice involves C-3PO and is almost as ridiculous as Benicio Del Toro's character in the last film. According to promotions for the movie, every question will be answered and every destiny will be revealed. Not quite. Kylo Ren, Poe and Finn all know so much more than we learn, and that's a copout, especially because their knowledge involves Rey and her past. I could have done with less of some other characters or plot lines to get more about Rey, Poe and Finn. Some roller coasters have amazing hills, speed or tricks with other common elements that don't bring the wow factor. What can you do? Enjoy the ride as it's designed, and look forward to that new one that will pop up in a few years. Just as Luke Skywalker (Mark Hamill) and Leia returned in this trilogy, I'll hold out hope that future films will feature Rey.
With the Star Wars universe alive and well, this end will only lead to new beginnings. The Disney theme parks opened their Star Wars areas this year, and a new attraction called Rise of the Resistance has already received acclaim for its amazing immersion of park guests. Two characters in this film utter the line, "Never underestimate a droid," and those faithful droids C-3PO and R2-D2 have seen such amazing things in their lifetimes. Although I'll miss the saga as it ends in a way with this movie, any film called Star Wars: The Rise of Skywalker takes a positive approach to the Skywalker legacy and the Star Wars films along with it.