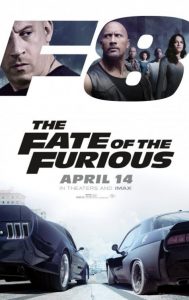 Who doesn't love a good car stunt? I know that I do. No matter how silly or impossible that they are, they're still fun to watch and often take your breath away. The common elements of the series that began with 2001's The Fast and the Furious are exotic cars and stunts or races with those vehicles and many others. Over the series, planes, tanks and other forms of transportation have been added to the mix and expanded the possibilities. The latest entry in the series goes all out and delivers an exciting experience that traverses the globe. The Fate of the Furious capitalizes on the stunts and characters that fans have grown to love and still manages to surprise.
I'm certain that the excitement comes from the combination of first-time series director F. Gary Gray and continuing series writer Chris Morgan. Following Straight Outta Compton, Gray contributes his experience from music videos as well as his direction of 2003's The Italian Job. Morgan adds the nice touches to the characters and plot that make those entries that he wrote all feel connected as if one long movie. This world and these characters are all familiar, so watching feels like visiting with old friends.
The cast of characters has grown so much, but the main actors of the last few films have been constant. With Paul Walker's death, Vin Diesel takes center stage as former street racer Dominic Toretto. His latest adventure begins in Havana where he and Letty (Michelle Rodriguez) have their down time interrupted by cyberterrorist Cipher (Charlize Theron with dreadlocks), who somehow coerces Dom into working for her. Now that he has gone rogue, the team is split up with Dom, Cipher and her team on one side and everyone else trying to stop them.
Dwayne Johnson returns as former agent Luke Hobbs, and I swear that he has somehow become more buff and built. (It must have been the voice work that he did for Moana.) Tyrese Gibson and Chris "Ludacris" Bridges provide the comedic relief at just the right times. Nathalie Emmanuel shines in an expanded role, and Kurt Russell returns as government spook Mr. Nobody with Scott Eastwood tagging along as his protégé. Jason Statham in any capacity makes a movie better, and he has one of the more entertaining fight sequences. The characters' camaraderie bleeds over into the excitement of the stunts and action as the team members assist each other fluidly both in and out of vehicles.
The James Bond series used to be the only time that I would watch in awe as stunts that are impossible or at least unbelievable in the real world came to life on the screen. This film may top some of the craziest Bond stunts. I won't give anything away, but you should know that even simple car chases or races are given a unique twist. As with past films, the stunts go beyond the driver's seat, so buckle up and enjoy the ride as the characters take advantage of every opportunity to go fast or do damage. I swear that Morgan must have jotted down the craziest ideas that he could imagine and managed to fit them all into the plot. I look forward to what he thinks up next for the inevitable sequel.
As with Furious 7, IMAX viewers will experience a new IMAX countdown themed to this movie. One weakness of the story is how some rivals suddenly switch sides or make up quickly. That's not logical, but with the ridiculous stunts and impossible physics, those questionable plot points are minor by comparison. The theme of "family" impressively runs through the story to accompany the action and give it purpose. There are some great surprises on top of everything else that will make the audience gasp in those rare collective moviegoing moments. Like a redirected GPS route, The Fate of the Furious takes you exactly where you want to go with lots of twists, turns and unexpected detours along the way.