A loving couple living on an isolated island rescue an infant from a wayward rowboat and raise the child as their own in The Light Between Oceans.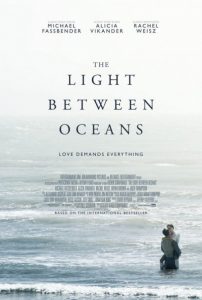 Tom Sherbourne (Michael Fassbender) is desperate to rebuild a life far from the horrors he experienced as a combatant in The Great War. Upon returning home, he's offered a job manning a lighthouse on a remote island off Australia's west coast.  Most people would be challenged by such a detached lifestyle, but it's exactly what Tom needs most.
While visiting the mainland, he meets a magnetic young woman named Isabel (Alicia Vikander), and the two fall deeply in love. She agrees to join Tom on his otherwise deserted island retreat and make plans to raise a family there. Their hopes are dashed when Isabel proves unable to give birth, leaving her despondent over their misfortune. Fate intercedes one afternoon when an errant rowboat passes close to the shore of the lighthouse. Inside is an anonymous infant with almost no means of identification. It's as if God has delivered the forlorn couple that which they could not provide for themselves. After much debate, Tom and Isabel decide to raise the child as their own, but it's a choice that will shadow them for the rest of their lives.
Writer/director Derek Cianfrance has been off the radar since delivering 2012's compelling, but ultimately lacking, The Place Beyond the Pines. Cianfrance seems to have taken a page straight from his own leading character's role. His seemingly quiet isolation has yielded what is easily the best work of a 30-year career. A major concern in his previous film, the writing is guided considerably by the foundation of M.L. Stedman's best-selling novel.
It doesn't hurt that the main players all deliver award-worthy performances. Fassbender and Vikander are sensational but slightly overshadowed by a searing supporting performance from Rachel Weisz. We feel the pain of her character with every glance, even from a distance. It's also great to see native Aussie Bryan Brown again.
The one stumbling block of the film is Cianfrance's early pacing. It's 30 minutes of setup that feels like 60. The camera hangs too long, too often on scenes that do little to move the plot forward. Once it does finally find the tide, it rolls in at a pace that leaves you breathless. The plot pits your emotions and morality against one another in a tug of war with no victors. We just have to sit tensely by, waiting for the inevitable hammer to drop.
Solemn, visually beautiful and supported by a touching, yet always haunting, soundtrack, this tale of star-crossed lovers navigates its way right into our hearts.