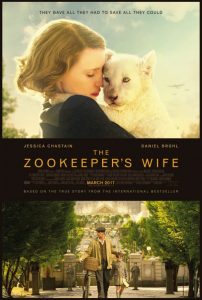 A Polish family finds themselves at a crossroads when the Nazis take control of their zoo in The Zookeeper's Wife.
There are some words or phrases that need no explanation to define their purpose. "Warsaw, Poland, 1939" is near the very top of that list. This is not a cuddly, animal-loving film about the basic challenges of a devoted zookeeper. The opening text foreshadows the inescapable darkness that befalls this unfortunate establishment and the family that put everything into making it a beloved local institution.
This searing true story opens with an idyllic scene that grabs your attention and keeps it engaged as the dream churns wrenchingly into a nightmare. Jessica Chastain gives us one of her most memorable performances with solid assists from Johan Heldenbergh and Daniel Brühl (as her husband and a Nazi zoologist respectively). It's impossible to see the film and not be reminded of Schindler's List. Director Niki Caro (Whale Rider and McFarland, USA) provides the best film that this material could inspire. The film's only handicap is that the historical source material wasn't quite as nauseating as Oskar Schindler's reality.