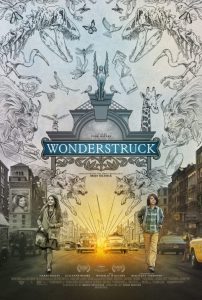 Determined children from two different eras search for elusive answers in Wonderstruck.
Writer Brian Selznick burst onto the Hollywood landscape with his fantastical homage to filmmaking in 2011's critically-acclaimed masterwork Hugo. His latest film adaptation tantalizingly hints at a magical experience on par with his previous entry. It boasts an instantly compelling title; two adorable leads; dreamy, immersive visuals; and deceptively effective, minimal dialogue.
The story unfolds through the eyes of two preteens separated by 50 years, but both in search of a missing critical element in each of their lives. Innocent young Rose (Millicent Simmonds) finds herself inexplicably enchanted by a famous silent film star (Julianne Moore) and runs away from home to meet her. Meanwhile, single-minded Ben (Oakes Fegley) sets out in search of his long-lost father on the chaotic streets of 1970s New York City. The two tales are as unique as their time frames. Rose's world is simple, colorless and soulfully silent, while Ben's world is nearly the exact opposite.
As the story begins to take shape, we can feel the warmth of its inviting embrace. We're eager to settle into its magical aura, only to be met with a shockingly empty expanse of unresolved questions and unrealized potential. Director Todd Haynes (Carol, as well as Far from Heaven and Safe that both star Moore) seems incapable of connecting us to the story's deeper recesses. Scenes that should resonate with lasting effect feel as rewarding as a philosophical dialogue with a sculpture of Socrates.
This is a film in which we so want to get lost, only to find ourselves ushered incessantly toward another featureless exit. What could have been — and, frankly, should have been — transforms into a film that few will remember past the first cold blast of winter's chill.