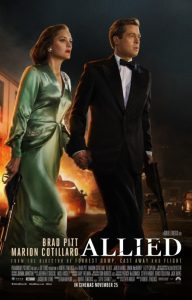 A Canadian spy falls for a French Resistance fighter whose patriotism is later scrutinized in Allied.
During a covert operation in Casablanca in 1942, a Canadian intelligence officer Max Vatan (Brad Pitt) teams up with French spy Marianne Beauséjour (Marion Cotillard). The two portray a well-connected married French couple with access to critical German events. Such missions come with double the challenge. There's the risk of not only being caught but also of developing emotional attachment to your mission partner. Both are determined to avoid either entanglement, but despite their better judgment, they fall madly in love.
As the war rages on, Max and Marianne do their best to raise a family in less than idyllic surroundings. Daily aerial bombardment from determined Nazi raids has reduced London to rubble. It's a hellish life made bearable only through the strength and conviction of their mutual love — a love soon tested by a threat more devastating than Nazi bombers.
Famed director Robert Zemeckis knows how to construct a compelling film. His directorial résumé is as impressive as it is long, including such works as Flight, Forrest Gump, the Back to the Future trilogy and Romancing the Stone. He's also had his fair share of duds (Beowulf, What Lies Beneath and Death Becomes Her). From its highest highs (of which there are plenty) to its lowest lows (nearly as many), there's one thing that you can say about Allied: it's quintessential Zemeckis in every way. Most of his films are doused in a polarizing campiness that you either revel in or repel away from. This time around, I wallowed in it like an elated pig in a pile of cool summer mud.
During the film's best moments, it'll conjure up memories of Casablanca, The English Patient and Titanic. At its worst, the plot plays like a reimagining of Mr. & Mrs. Smith, both on-screen and off. As for the performances, Cotillard is the real star of the film. Her look and style are perfect for the period. Pitt is certainly serviceable, though at times he's downright distracting with a haircut a good decade before its time. The action and tension is perpetually palpable even though we pretty much know the film's course from early on.
If you go into this like an intelligence agent determined to break the will of the plot, you'll succeed with ease. If you instead accept it as a carefree joyride through a slick period piece, buckle up. It'll blast down the drag strip, leaving a smile etched on your face and your stomach a mile behind.