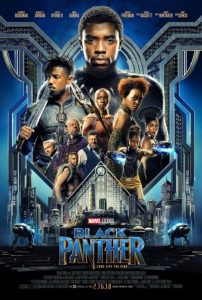 Two characters captivated audiences in Captain America: Civil War — the new Peter Parker/Spider-Man and T'Challa/Black Panther. Although it was well known that Marvel's webslinger was about to get another reboot, Black Panther came out of nowhere and wowed fans from his first moments on screen. That same kind of excitement carries over to T'Challa's origin story and stand-alone adventure in Black Panther. Just as Black Panther sparks interest as an unusual superhero, this movie will likely bring in all kinds of audiences with something more than the typical Marvel fare. Logan made its mark as a fringe film unlike any other X-Men title. Similarly, Black Panther provides a peek into a hidden culture and people that's still strongly rooted beneath the surface to the other Marvel properties.
Cowriter/director Ryan Coogler built up quickly to this ambitious big-budget movie after the progressively more challenging steps of Fruitvale Station and Creed. Coogler and cowriter Joe Robert Cole draw on a variety of sources for an origin tale that feels more like the living history for an African country than the back story to an enigmatic superhero. With a plot that draws a little bit each from The Godfather, The Lion King, West Side Story and Empire and merges with its own themes, Black Panther focuses on the rise of T'Challa (Chadwick Boseman) in the African country Wakanda. The powerful substance called vibranium crashed into Wakanda centuries ago with a meteor, and this element both formed the basis of all of the technology and culture of Wakanda and gave rise to the titular superhero and protector of Wakanda. T'Challa takes the throne with the assistance of four influential women — his general Okoye (Danai Gurira of The Walking Dead); his on-again, off-again girlfriend Nakia (Lupita Nyong'o); his mother Ramonda (Angela Bassett); and his techie sister Shuri (Letitia Wright). With a mission to recover vibranium stolen by Ulysses Klaue (a buff Andy Serkis) and a challenge to the throne by Erik Killmonger (Michael B. Jordan), T'Challa has his hands full and his claws out.
The outstanding cast of black actors from all over the world sells the film and takes it higher than just another superhero project. Boseman's past roles include American legends Jackie Robinson, James Brown and Thurgood Marshall, yet his T'Challa ranks as complicated and enthralling as any of those real people. Boseman handles the physicality of the character as well as the drama equally well, and it's hard not to smile when he suits up in his iconic costume complete with mask and vibranium claws. Jordan starred in Coogler's previous movies, and he's just as impressive here as the angry, vengeful Killmonger. Martin Freeman reprises his role as CIA agent Everett K. Ross, and Serkis (last "seen" in Star Wars: The Last Jedi) morphs into big bruiser Klaue in one of his acting roles instead of motion capture. Other male actors include Daniel Kaluuya, Winston Duke, Sterling K. Brown and Forest Whitaker — all doing fine work here and adding to this impressive cast. I would like to have seen more of Isaach De Bankolé (star of the memorable The Limits of Control), but he's almost a background actor here.
The filmmakers showed great smarts in producing a movie like this with powerful women who command as much respect in Wakanda as the men if not more. If you thought that Gurira was a badass with a katana as Michonne in The Walking Dead, you will cheer for her with a spear and awesome moves. Nyong'o has her moments as well, but they're not so much with battle as much as they are in dramatic scenes with Bosemen. After all, she plays the stereotypical girlfriend role to some extent. Who doesn't like Bassett? She can say more with the right look than lines of dialogue, and as a queen here, she does both. The standout performance for me goes to Wright as the bubbly, brilliant, loving sister. She was in a few popular TV series like Humans and had a minor role in The Commuter. This will be her breakout role, and it should open more doors for this star on the rise.
The visuals rank right up there with any of the other Marvel films. Wakanda mixes the rural and urban, and the main city looks like Dubai transported to the African plains. Underground locations merge the pastel colors of Avatar with the structures and scope of Walt Disney World's Tomorrowland. The filmmakers don't let you forget that Wakanda's in Africa and provide some stunning sunsets and waterfalls. A ceremony on a waterfall strikes a chord as version of a Wakandan arena, and the breathtaking throne room of the elder of the gorilla tribe even beats out T'Challa's. The colorful, jaw-dropping costumes by Ruth E. Carter infuse every scene with color and compelled me to concentrate on the characters' wardrobe more than I would normally do. From the warrior outfits of Okoye and her sisters-at-arms to even the intricate designs of simple blankets, the tribal colors and fabrics show a level of detail and design not usually given to superhero films beyond the main character's costume.
Black Panther features technology made with vibranium that steps right out of Star Trek or a James Bond film. In fact, a scene with Shuri showing her latest designs to T'Challa mirrors the similar demonstrations by Q in any Bond movie. That vibranium is some powerful stuff, so it's no wonder that the outside world wants to get a hold of it. Some devices give new meaning to remote control. Whether it's the vibranium ability to absorb and reflect energy or the healing powers of the Wakandan herbs and plants, Black Panther wows with the potential future inventions as much as anything that Tony Stark/Iron Man can develop.
Pay attention to the music because the tribal drums in the score mirror the action and drama on screen. The music adds just a little more oomph to the film. For all of the positives and excitement, it's humorous to me that Black Panther still leads to a climactic battle like the other superhero movies. I would have preferred to learn more about the history of Wakanda because the country is as much of a character here as Asgard is to the Thor series. Sneaky ways to show the characters' names in text (dialogue subtitles, documents, etc.) would have been nice while watching so moviegoers would know how to say these unusual names, but that's a small thing. Black Panther clearly forges its own path as a fun, original film that both stands on its own and fits into the larger Marvel Universe.