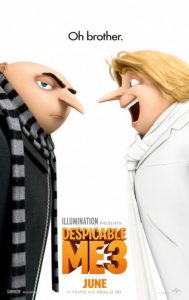 You can't keep a good villain down. He might dabble in the good side of the eternal good vs. evil fight, but in the end, it's hard for him to shake off his Gru, I mean, true colors. This struggle defines the central plot of Despicable Me 3. Audiences already accepted that series lead Gru (voiced by Steve Carell) had turned his back on crime in order to provide a more stable life for his family. Although Gru may waver, the Minions steal the show as always in Despicable Me 3.
The filmmakers involved with Despicable Me 3 all have history with the franchise. Directors Kyle Balda and Pierre Coffin previously directed Minions, and Coffin has provided the voices for the adorable, mischievous yellow creatures from the beginning. Codirector Eric Guillon animated characters for the series and has moved up to this position. Writers Cinco Paul and Ken Daurio penned the previous Despicable Me films as well as the excellent The Secret Life of Pets. The issue isn't the talent involved. This is a solid movie; it just didn't blow me away. I like it a lot better than Minions because these diminutive characters are just better in small quantities. Despicable Me 3 reaches thisclose to exciting me. Unfortunately, repetition of bad decisions and jokes instead of a broader stroke kept me waiting more for the next appearance of the Minions in the film.
If you've seen the trailer, you already know the first few minutes of the movie, and that's unfortunate because it ruins a few good gags. Gru and wife Lucy (Kristen Wiig) get fired when villain Balthazar Bratt (Trey Parker) steals a large diamond for nefarious reasons. After discovering that he has a long-lost brother with blonde hair named Dru (also Carell), Gru takes Lucy, the Minions and daughters Margo (Miranda Cosgrove), Edith (Dana Gaier) and Agnes (Nev Scharrel) to Dru's homeland for a family reunion. In an attempt to regain his life, Gru enlists Dru to steal the diamond back from Bratt.
Carell as Gru (and now Dru) makes me laugh with each word and awkward way of speaking English. I hope that he unexpectedly slips into that character in his regular life for comic effect. Wiig is warm and funny as Lucy, so Gru and Lucy's relationship is believable. Parker doesn't give Bratt some kind of iconic voice. Parker voices Cartman in South Park, so I expected something better for Bratt, who ultimately comes off as a cheesy and weak villain instead of a memorable character. Mentally stuck in his successful past as a child star of the '80s, Bratt forces enemies into dance fights, uses chewing gum as a weapon and looks a lot like another '80s villain — Gargamel from The Smurfs.
Let's talk about the real stars of the movie. The Minions always keep me in stitches. Their ridiculous pranks and silly language create the perfect characters to accompany the stars of these Despicable Me movies. Coffin's vocal performance breathes life into the characters like very few animated beings. Despicable Me 3 introduces new Minion Mel, who doesn't distinguish himself enough from the others on first viewing. The Minions' language supposedly makes sense to people who know its words and syntax much like Klingon in Star Trek. I don't understand it or even want to. An exchange completely in Minion-speak remains funny even if you can't make out a word. I dread the scheduled Minions 2 unless they somehow find a way to extend the hilarity of a few seconds here and there to a full movie.
The odd soundtrack mixes '80s classics like "Bad," "Into the Groove" and "Take On Me" during Bratt's dance fights and other Bratt sequences with Pharrell Williams songs old and new. The latter are much more enjoyable, especially a use of "Freedom" that will etch the scene into your mind. Look for a blatant promotion for another Illumination Entertainment property that would interest me more if the filmmakers actually do join their franchises into the same animated universe much like Warner Bros. or Disney characters. Adults will spot gags in the background, kids will enjoy the goofiness and everyone will be better off with this passing sequel than Cars 3.