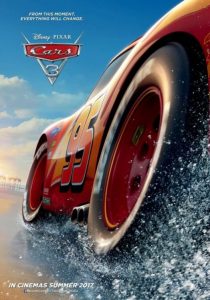 Pixar excels at telling stories that are really about human beings while occasionally using anthropomorphic creatures to do it. A Bug's Life takes place among the critters; Monsters, Inc. visits the world of the monsters that scare children; and Cars inhabits a universe of vehicles. For many people, Cars 2 involved too much of a change and focus. I found it to be the perfect way to take the characters out of their home base and experiment with the format. Planes and Planes: Fire & Rescue revealed different aspects of the Cars universe. With every reason to give it the gas to deliver the best Cars world title to date, Pixar instead played it safe. Cars 3 should be firing on all cylinders instead of crashing hard into the wall.
Writer/director Brian Fee makes his feature directorial debut with Cars 3 after extensive experience on other animated films like the previous Cars titles. The problem may just be too many writers and no compelling story. After the racing world changes around Lightning McQueen (voiced by Owen Wilson), he needs to find a way to be competitive against high-tech, high-performance vehicles like Jackson Storm (Armie Hammer). McQueen ruled the racetracks of the previous seasons, but he's past his prime and ready for retirement unless he changes. Such a long farewell could have been handled so much more elegantly than these filmmakers do. My feelings bounced between boredom and depression, and I would never have expected such a reaction after my love of the first movie.
Although the familiar cast returns for Cars 3, the film focuses on the new characters as well as McQueen. The role of Mater (Larry the Cable Guy) is sadly much reduced after Cars 2, and Sally (Bonnie Hunt) has almost a cameo. Storm serves as McQueen's rival, and other roles are played by Cristela Alonzo, Chris Cooper, Nathan Fillion, Lea DeLaria and Kerry Washington. These actors all contribute their recognizable voices, and Cruz Ramirez (Alonzo) receives the biggest push as a new character who works with McQueen. Cars 3 just tries to cram too many ideas into one movie. With hints of Rocky, Cars 3 toys with a comeback story, but that's not good enough. The plot unfortunately swerves in another direction in the last minutes after not completing the main story line. For those in the know, John Ratzenberger continues his streak as Pixar's version of Stan Lee with cameos or full roles — he's Mack in the Cars films — in all of the Pixar features.
Cars 3 misses the mark for fun. Instead of laughing and enjoying the vehicles' predicaments, I found Cars 3 to be sad and depressing. Getting old is not fun for anyone, so the constant reminders of McQueen's inadequacies are not the recipe for a good night out. Some of McQueen's fellow racers throw in the towel and retire, yet McQueen instead declares, "I decide when I'm done." I haven't felt so down in a movie since Bing Bong's fate in Inside Out, and this experience practically feels like an entire movie at that level. However, all is not lost, and a sequence at a demolition derby featuring manic school bus Miss Fritter (DeLaria) reminded me of what I needed from Cars 3.
The beautiful animation outranks previous titles in the Cars universe. The vehicles themselves retain their slick look and googly eyes. Cars 3 excels with the incredible photorealistic detail on the racetracks and other backgrounds. You would think that you're looking at images of the characters against pictures of real tracks, but that's not the case as the technology continues to advance to the point where your eyes are fooled. The angles mimic what you would see in auto racing sports coverage on TV, so the races join the demolition derby in keeping my attention and helping me to forget all of my indifference. Expect to see a few versions of McQueen that will probably also hit toy stores along with the new characters.
There are plenty of visual in jokes to keep your eyes occupied. For example, the tires are "Lightyears," a reference to one of the Toy Story lead characters. Despite my misgivings about the story, the lush visuals and detailed animation at least keep the movie at a high level of quality. The Toy Story series is a better example of how I expected Pixar to care for the Cars films. After all, Disney California Adventure Park features an entire Cars Land area. Maybe there's still hope for the future, but in Cars 3, Lightning McQueen has lost his "Ka-Chow!"