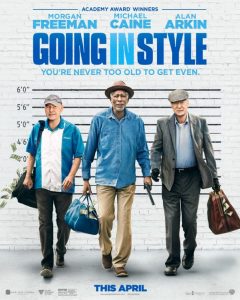 Three troubled seniors undertake a plan to get even with the system in Going in Style.
What does a film starring three legendary Academy Award-winning actors and a script penned by Theodore Melfi (Hidden Figures and St. Vincent) need? Apparently a stiff shot of Viagra. Morgan Freeman, Michael Caine and Alan Arkin star in a bank heist comedy with a plot more worn and feeble than someone twice their combined ages.
What starts off as a brilliant, intellectually stimulating drama quickly ends up on life support as it stumbles awkwardly into a comatose comedy. Its first 10 minutes are truly magical. Caine's deadpan first scene teases us with what might have been but never is. All three leads deserve so much better, and they're not alone.
Matt Dillon, Christopher Lloyd and Ann-Margret end up as piteous casualties playing embarrassing cartoon caricatures of no noteworthy value. I'd like to deflect fault from Melfi by placing the blame on director Zach Braff, but it's the script that can't manage anything above a sinus rhythm. What was Melfi thinking? Adding insult to injury are Melfi's misguided messages: It's okay to rob a bank if you're old and in need; in fact, if you're nice enough while doing it, small children will lie to the authorities for you.
The only reason to endure this disgrace is to pay tribute to its illustrious leads. Let's hope that their next endeavors are more worthy of their incomparable style.