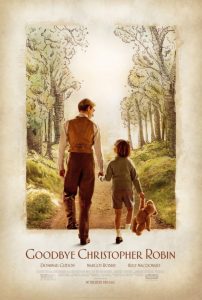 Goodbye Christopher Robin examines the inspiration and personal impact of A. A. Milne's beloved character Winnie-the-Pooh.
It's hard to find anyone in the western world who doesn't know at least something about the curious bear with an insatiable appetite for honey. The cuddly main character of this cherished literary classic has left his indelible mark on children of all ages for nearly a century now. What many likely don't know are the often dark realities at the core of his creation. Author Milne (Domhnall Gleeson) crafted the tale based on the made-up childhood stories that his wife Daphne Milne (Margot Robbie) spun for their young son Christopher Robin (Will Tilston).
Simon Curtis (Woman in Gold and My Week with Marilyn) directs this often visually beautiful, but emotionally distant, look into Milne's troubled personal life. Every character, with the exception of perhaps young Christopher Robin, feels woefully underdeveloped. Curtis and writers Frank Cottrell Boyce and Simon Vaughan seem incapable of fashioning a narrative that goes beyond only the most rudimentary explanations for what we see. The result is little more than a treatise on the perils of horrid parenting. No character suffers this fate more than Robbie's nearly invisible Daphne. The genesis for such endearing, enduring stories gets only the most cursory attention possible. Even in the film's most important final resolution, Daphne is entirely ignored.
The film is at its best when it sees the world through young Christopher Robin's eyes. In fact, one has to openly wonder if perhaps the writers missed the mark by making the elder Milne the target of their story. Tilston's portrayal of the young child is imbued with an infectious natural innocence that's often magical. As soon as the film moves away from him, the magic evaporates faster than the honey in Pooh's pot.
For a film of such visual splendor, it seems to lack any sense of focus for the heart underneath the story. Its nearly two hours squanders much of its length beating home the same monotonous messages. We get little sense of Milne's inner creativity, leaving the audience to wonder if his most iconic work was little more than pure dumb luck. What should be a story of escalating emotion instead feels for most of its run as lifeless as a warehouse full of stuffed, unloved animals. The path through this Hundred Acre Wood is just too long and too bland to make it worth the final touching payoff found only in its last few yards.