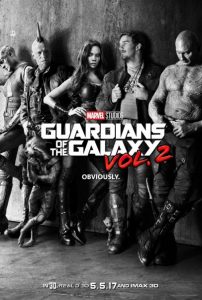 My favorite movie experiences are those in which I'm surprised, shocked or taken off guard by what I see. It's hard to avoid promotion these days if you use the Internet or watch TV, especially for blockbuster films. You just know that the sequel to 2014's hit Guardians of the Galaxy is going to be great. The filmmakers hit that sweet spot and left people wanting more. I'm happy to say that the sequel went beyond what I expected and surprised me with its level of entertainment. Guardians of the Galaxy Vol. 2 hits the ground running with familiar characters and blends lots of comedy, special effects and hit (Earth) songs for another awesome mix.
Writer/director James Gunn fires on all cylinders once again and gives us a story that starts off with a simple mission of monster extermination for the titular team before it turns into something with more universal impact. The snarky team of Peter Quill aka Star-Lord (Chris Pratt), Gamora (Zoe Saldana), Drax (Dave Bautista), Rocket (voiced by Bradley Cooper) and Baby Groot (voiced by Vin Diesel) are joined by the mysterious Ego (Kurt Russell in a meaty role) as they try to shake off the race of gold-skinned people who come after them. Each of the team members has multiple moments in the spotlight, so this film emphasizes their individual personalities and contributions instead of making this all about Quill. Subplots involve Gamora's angry sister Nebula (Karen Gillan) and bounty hunter/thief Yondu (Michael Rooker chewing up the scenery). The movie ebbs and flows as the plot unfurls, but the action scenes are all at maximum intensity.
Gunn leans heavily on scenes and dialogue that hit the funny bone. I can't remember laughing so much in a Marvel superhero movie other than perhaps the first in this series. A lot of those laughs come from the way that the team members verbally abuse each other, but dialogue is only part of it. The opening titles scene is perhaps the best display of Gunn's skill as comedy and action are accompanied by a great Electric Light Orchestra song. Bautista gets a more expanded role here, and he provides a lot of laughs with Drax's offbeat way of looking at the universe. The real surprise here is Baby Groot, who steals almost every scene with his innocence and mischief. I like Diesel's voice work here more than his entire role in The Fate of the Furious.
As much as you expect impressive digital special effects in movies, there are plenty of visuals that were truly awesome. At one point, the superheroes look out in wonder at the landscape of a beautiful planet. I felt just like that with many of the scenes. Gunn punches them up even more with a sort of frenetic direction full of quick cuts, whether it's the opening titles scene or a bit when Yondu uses his special arrow and it's captured across multiple security screens or in and out of the dark. I pointed out the excellent special effects makeup in the first film. I don't know how they managed to do it, but the makeup seems even better and more ambitious here. The real test for effects makeup is a close-up, and those close-ups of Gillan and Rooker convince you that these are characters from another world and not just painted humans. Gold makeup is often problematic, but the detail for the race of gold people here marks them as attractive while still not looking like caked-on foundation.
Music is intrinsic to the plot in both films in this series, and the hit songs are played at key points by the characters as well as layered in by Gunn. The mood created by the music even lends itself well to a reprise of one key song as a touchstone to a moment earlier in the plot. This is one movie soundtrack that you need to buy. There are plenty of cameos and surprises to enjoy; make sure that you stay through the entire credits sequence to take in all of the bonus scenes. Guardians of the Galaxy Vol. 2 left a big smile on my face long after I left the theater, and after two hours in the dark, that's all that I want out of a summer blockbuster.