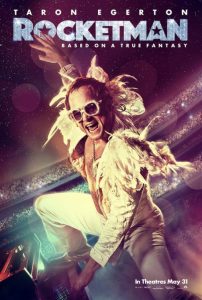 A young, mentally abused music prodigy finds fame, fortune and frustration in Rocketman.
Music just came naturally to Reginald Dwight. Melodies materialized from a boundless internal reservoir that would transport him far beyond a challenging childhood. Dwight grew up in a home essentially estranged from a father (Steven Mackintosh) who had no love for him and a well-meaning, but ultimately ineffective and often self-centered, mother (Bryce Dallas Howard). As the music began to carve a path for his future, young Dwight left behind the baggage by transforming into a man of his own making and became Elton John (Taron Egerton).
This oversize, over-produced story about the life of one of rock's greatest talents is every bit as outrageous as the man himself. The film starts off with a dramatic opening scene that's vintage John, but soon bogs down under the weight of an unmistakable identity crisis. Rocketman seems at times to be trying to mimic three models for success. It feels like a Broadway musical, but clearly wants to be thought of as the next Bohemian Rhapsody or perhaps the next Mamma Mia! This  blender-like mix left me lost and bored. That's quite a feat given that I grew up as a fan of John's dating back to 1972's "Crocodile Rock" and continuing long past when most fans moved on.
As a biopic, it's classic Hollywood in that you can't believe anything that you see. The selection of his stage name tells a version that I've never heard before. In fact, the true story involves a key person in John's life who's entirely omitted from the film — former bandmate Long John Baldry. Many of John's songs are tossed about with no regard for when they were actually created. Several of his biggest hits are ignored entirely. A failed marriage that lasted four years is portrayed a decade before it happened and in a sequence that suggests that it lasted for a matter of days. Several important scenes are nothing more than complete fantasy. None of it matters in the end.
The film makes a critical claim that John and lifelong writing partner Bernie Taupin (Jamie Bell in a flawless performance) have never had an argument, but then goes on to recount several. The film's entire foundation is built around John entering rehab in the late '70s or early '80s after bailing on a packed house at Madison Square Garden. None of this is even remotely true. Everything that we see feels forced and packaged into one bad cliché after another. It's like watching someone try to shoehorn a watermelon into a size 8 shoe. It just doesn't work.
As John, Egerton only impressed me with his singing. Much of his acting involves unintended comedic facial expressions best suited for a farcical high school production. Artistic elements do nothing but distract us from the story. One character suddenly has an aura show up behind her head. John magically floats off the floor in another. Why?!
John's career is that of a man intent on hiding behind a facade, and in that way, the film succeeds. He's still safe behind a major film that exposes nothing of substance on which we can depend. Even the music works to make us forget that what we're seeing is a sham. It's all fizzle and no sizzle.