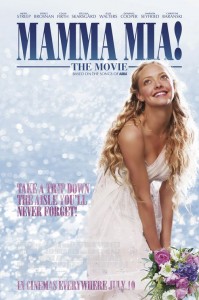 A young bride-to-be schemes to invite her unknown father to her dream wedding in Mamma Mia!
I'm not a big attendee of plays but did see Mamma Mia! on Broadway and loved every minute of it. I found it every bit as captivating as Phantom of the Opera. However, I also like the music of ABBA and have always felt that they'd never gotten their due.
When I heard a movie was coming I was entirely skeptical. How could it possibly compare with the stage play? Then I heard the lead role was going to be Meryl Streep and I nearly decided to give the movie a pass. I love Streep but I couldn't see her carrying the singing for this. Other choices seemed just as suspect.
When the movie started I forgot all of my reservations. I can't recall any other movie where I spent so much time smiling. It was so persistent that my cheeks ached by the end. This is the feel-good movie of the year. The story is light but still mesmerizing. The ballads are perfectly suited to the story and do wonders to give ABBA the respect their music deserves. No other library of songs from a single artist could cover this much territory so effortlessly.
You could hear people singing and clapping throughout the theater. It slides into your imagination and gets everyone involved.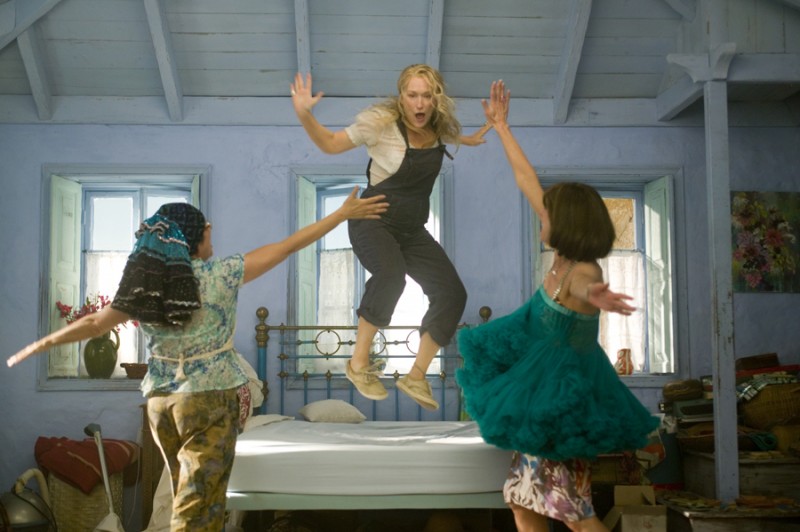 There are a couple oddities. I believe Pierce Brosnan is a much better actor than some people think and he's great here too. However, he doesn't sing well (at least not singing these songs) . I have seen him sing well in another movie, but not here. It's so distinct that when he first sings everyone in the theater does a bit of gasp and then the chuckles start, but that's forgotten pretty quickly.
Meryl Streep is just flat-out amazing. She looks great here and, with a voice that's only average, manages to own the material she covers. Her rendition of The Winner Takes It All is just wonderful. Not only does she carry the tune but her acting during it is just incredible. She deserves an Oscar nomination every bit as much as Heath Ledger. Mamma Mia! is a beautiful, funny, enjoyable film that is every bit the equal of the stage show.
I did note that either my memory is off or the movie opted to swap in a couple different tunes from the stage version. Both work well here. Also the movie is able to do some things the play couldn't given the open canvas of the set. I do suspect a few boyfriends and husbands griping about the the film, but most everyone else should love it and I know it would make a great romantic date.