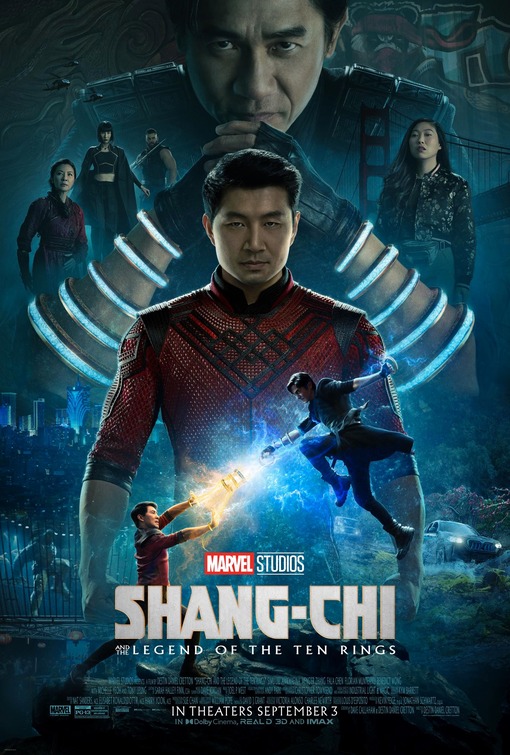 Not all Marvel films result in "event movies." If the slate of titles in the Marvel Cinematic Universe (MCU) has taught us anything, it's that some films set up things yet to be revealed. I had that feeling during Shang-Chi and the Legend of the Ten Rings. The story takes a detour from other Marvel happenings while still letting you know that it exists in that world with at least one reference to "the blip." All of the Marvel characters who went on to great actions in other story lines like Avengers: Infinity War or Avengers: Endgame also had their origins addressed at one point. Issues of pacing and flashbacks keep the latest Marvel entry from the top tier. Shang-Chi and the Legend of the Ten Rings introduces new characters, offers them a chance to save the world and prepares them for what will come along down the line.
Writer/director Destin Daniel Cretton (Just Mercy, The Glass Castle and Short Term 12) marks his entry into the MCU along with writers Dave Callaham (cowriter of Mortal Kombat and Wonder Woman 1984) and Andrew Lanham (Just Mercy and The Glass Castle). Shaun/Shang-Chi (Simu Liu) and his friend Katy (Awkwafina) park cars in San Francisco all day and party in karaoke clubs at night. When Shaun receives a postcard purportedly from his sister Xialing (newcomer Meng'er Zhang), Shaun decides to head to Macau to confront his past that he escaped when he came to America. Shang-Chi and Xialing reunite with their father (Tony Leung), a man with enormous wealth and influence for over a thousand years because of the titular rings that provide godlike powers and immortality. Their father uses the siblings to reach a magical realm called Ta Lo where the fate of the world will be determined.
Liu has some credits to his name, but this character will become his breakout role for sure. Liu handles the acting in the quiet parts just fine and also kicks ass in multiple action sequences. It's hard to believe that Zhang makes her feature film debut here. Like Liu, she impresses with both her acting and fighting prowess, and I expect that Xialing will figure into the MCU's future plans. Who doesn't like Awkwafina?! She brings the laughs and comedic timing, yet she also takes on a larger role over the course of the film. Leung and Michelle Yeoh as Ying Nan, aunt to Shang-Chi and Xialing, have many movies on their résumés and bring some history and gravitas to their roles. Yeoh's appearance reminds me of Crouching Tiger, Hidden Dragon so many years ago with her fluid, graceful fighting style more like dancing in both outings. There are cameos in the credits as with any MCU movie. Also, two characters show up in the story who are meant to be surprises, so I won't mention them or even list them in the cast.
People might focus on the action sequences. Visuals and details impressed me just as much. Visual cues hint at what's going on. The citizens of Ta Lo dress in red, while bad guys don black outfits. The rings make a distinct clinking sound when loose on the wearer's arms and take on colors for good intentions (yellow) or bad ones (blue). The beautiful settings reflect Chinese culture, including impressive temples, a bamboo forest and a waterside town in Ta Lo. The swaying bamboo also reminds me of Crouching Tiger, Hidden Dragon. Special effects are part of every movie anymore in some way, so it takes a lot to earn a mention. Various creatures in Ta Lo meet that level, especially a dragon protector and a huge soul-sucking monster.
The fighting sequences increase in complexity and scope over the course of the film. The hand-to-hand combat on a transit bus early in the story sets the standard for the action to come later on. The confines of a bus don't leave much room for movement, so Cretton and his stunt crew had to get very creative, not to mention one bad guy (Florian Munteanu) with an arm that ends with a mechanical weapon attachment. If that scene got your juices going, another one on scaffolding on a tall building in Macau tops it in every way. Car chases and other action sequences add variety and keep the film from becoming a modern take on those '70s "kung fu" movies. One criticism is that the finale takes on elements of a video game's boss battle, as do many of these superhero films. There must be a better way to defeat the bad guys.
My biggest complaints involve the pacing and a number of flashbacks that break up the momentum. Many dead spots and occasional boring scenes could have been avoided with a different structure to the movie. Instead, things move along for a while with great action sequences, then the action grinds to a halt for a few minutes. The backstory requires many scenes to explain the rings and the integration of the organization called "The Ten Rings" into recorded human history. Snappier editing or grouping of the backstory scenes in a longer prologue would have addressed my issues and gotten those scenes largely out of the way to focus on Shang-Chi's challenges. I look forward to finding out how the rings and characters feature in coming stories. For now, Shang-Chi and the Legend of the Ten Rings gives Marvel fans their superhero dose until the next title's release in a couple of months.