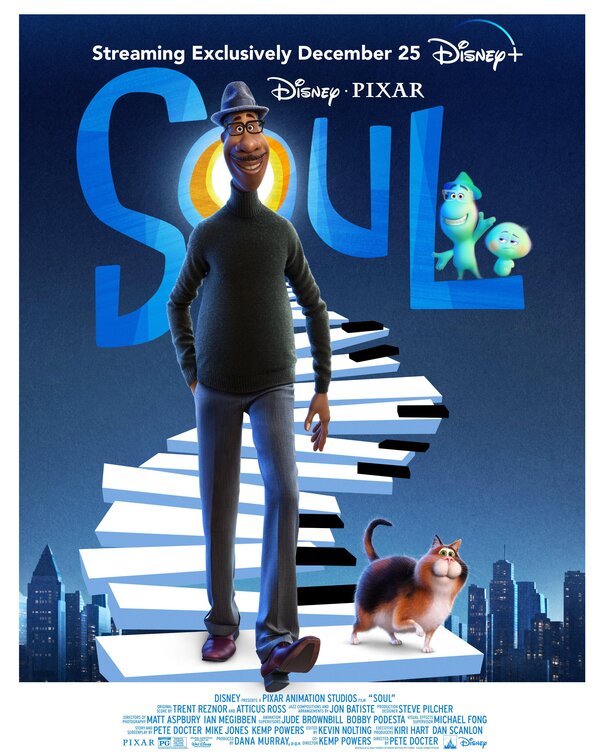 I played alto sax in the nearby high school's concert and jazz bands despite still being in grade school. Although I played the jazz pieces note for note and even had one solo, I never understood or "got" jazz until just a few years ago when I went to New Orleans for vacation. I scheduled visits to Preservation Hall, another club to see the recently passed Ellis Marsalis in one of his weekly gigs and a Sunday riverboat brunch with a jazz band on board. Once immersed, I truly appreciated jazz, the fluidity of the style and the musicians' approach to performing. Where am I heading? Well, the Pixar animated movie Soul feels like one giant jazz piece with the filmmakers riffing and making up stuff as they go along in a plot that makes you ask "what the, uh, furball?" again and again. Soul emphasizes the importance of music and mentors/teachers while delivering some soul-sucking sadness and ennui.
A simpler plot would have served the film better, but that's not the case here. Writers/directors Pete Docter and Kemp Powers and writer Mike Jones flex their creative muscles with Soul. School band teacher Joe Gardner (voiced by Jamie Foxx) loves his job, but dreams of playing in a jazz band. When the chance to play for The Dorothea Williams Quartet arises, Joe nails the audition and rides the high of that win down the street… and into an open manhole. Joe wakes up in a squat, blobby soul form on a long escalator to The Great Beyond in some in-between universe as his body lies on a hospital bed on Earth close to death. Escaping this finality somehow, Joe's soul ends up in The Great Before where he gets mistaken for a mentor to new souls before they head to bodies on Earth. In this location, Joe meets the incorrigible 22 (Tina Fey), who doesn't want to head to Earth, and they team up to fix both of their predicaments.
Soul might lose a lot of people with its complicated world and rules. A simpler setup should have spent more time with Joe's life on Earth and less time in this weird location. It's not enough that souls need to pick up their "spark" for a sort of merit badge before they're released to Earth; they must be mentored in a You Seminar and exposed to all kinds of different activities and interests in The Hall of Everything. It gets even more interesting when it's revealed that souls can enter The Zone between the physical and spiritual realms and lost souls wander in a dark place that reminds me of the more sinister areas in Inside Out and Ralph Breaks the Internet. I won't even get to the multiple characters named Jerry and the accountant named Terry.
Foxx raises his voice a little and effectively creates a character that both sounds like him and stands apart. Foxx's perfect casting delves into his ability to play the piano and love of music. Fey plays up her snarky and mischievous sides as 22, and it would have been nice to see more of her journey rather than delve into the minutiae of the soul world. Although in smaller roles, the voices of both Alice Braga (a Jerry) and Angela Bassett (Dorothea Williams) are instantly recognizable to moviegoers. Questlove appropriately plays a drummer in the Quartet and former student of Joe's who pays back his mentorship with the audition.
Soul mixes some interesting textures and styles to present the various realities. Although the humans on Earth are mostly exaggerated and larger than life, the depiction of barber Dez (Donnell Rawlings) results in the most fully detailed character animation. Sorry, Joe. I can't confirm the accuracy of the piano playing — it looks real nonetheless — but the fingering by Dorothea of the alto sax brought back some memories. That extra effort will please both animation fans and musicians alike. I'm not exactly sure why the Jerrys and Terry have appearances as abstract characters made of lines. Perhaps they were given a different style to stand out from the bloblike souls. A nice touch shows the souls headed to The Great Beyond as versions of their bodies on Earth, while the souls in The Great Before remain indistinct and amorphous. Much of the soul world reminds me of Inside Out, so that film's director Docter carried over some of those visuals.
Let me return to the soul sucking sadness for a minute. Soul hit me hard, and maybe it was supposed to do that to people of a certain age. Sadness runs throughout the story as Joe thinks about his life, and that ruined my escape from the real world to the movies for a couple of hours. Thanks, Pixar! Although balanced with scenes that reveal the transformative magic of music and others that depict the antics of an animated cat, I can't recommend Soul for kids. This is a mature movie full of big concepts and life lessons. I get it, and I'm better for it. The PG rating expands the reach to larger audiences, yet parents should at least sit down to watch this film with their children if not hold it off to their teen years.
A film called Soul without soul music is like a movie about Superman that focuses on Spider-Man. Fortunately, the use of jazz to punctuate scenes leads you to forget this oversight. Trent Reznor and Atticus Ross produce an otherworldly, moody score that fits the soul world so well. Soul misses the mark with an abrupt finale that leaves questions and one big one — who is Lisa? — that never receives attention. Soul mixes Inside Out, It's a Wonderful Life and Freaky Friday for an unforgettable experience that requires some alone time after the credits roll.