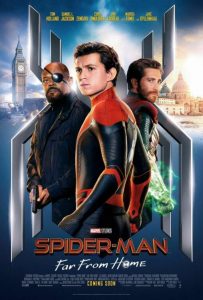 We're at the point where DC has introduced a sparkling new Batman. Over in the Marvel Cinematic Universe, Tom Holland has now appeared in five films as Peter Parker/Spider-Man — more than his predecessors who wore the blue and red tights. I'm not certain where the series goes after this latest outing, but it certainly provides fans with much to talk about until then. Holland brings a fresh, youthful approach and energy to everyone's favorite webslinger. Spider-Man: Far From Home takes the teen and his friends on an adventure that mixes high school romance and ho-hum heroics for a movie that's still fun but leaves you wanting something better.
Set after the events of Avengers: Endgame, Peter feels aimless and wants to regroup for what comes next. Nick Fury (Samuel L. Jackson) reaches out to him for a mission, but all that Peter can think about is his class trip to Europe and expressing his love for MJ (Zendaya, last seen in The Greatest Showman) in a romantic spot. Dangerous, destructive Elementals cause Quentin Beck/Mysterio (Jake Gyllenhaal) to join forces with Nick and Peter, and of course, these creatures cause havoc wherever Peter and his class show up, starting in Venice. Something other than the Elementals must be in the air because Peter's friends Ned Leeds (Jacob Batalon) and Betty Brant (Angourie Rice) hook up while Happy Hogan (Jon Favreau) and Aunt May Parker (Marisa Tomei) explore their relationship back home. Just as the forces of good fight the Elementals, the teen date movie half and superhero flick half compete for dominance during the over two hours of screen time. Director Jon Watts and writers Chris McKenna and Erik Sommers reprise their roles from Spider-Man: Homecoming and at least keep the characters and comedy consistent.
Holland has grown on me to become my favorite of the film Spider-Mans. Whiny, nervous and ultimately heroic, Holland delivers the goods with much room to grow. I was skeptical at first about Zendaya as MJ because she's far from the iconic comic book redhead. She has more screen time and scenes with Holland than Spider-Man: Homecoming, so the direction where they're taking MJ is clearer than before. It works, and this film marks the second where Zendaya swings through the air with her love interest. Gyllenhaal doesn't bring much oomph to his character despite some strong dramatic scenes with Holland. It's hard to separate the actor from the role that threatens to deflate the entire movie. Jackson never lets you forget that he was just on screen, and he steals every scene here as he delivers some uncharacteristic (for Nick), memorable lines that would fit better in other Jackson roles. J.B. Smoove caught me off guard as one of the teacher chaperones, and he's the best part of the group scenes with his sarcasm and humor.
Technology takes center stage in this adventure, so as with most Marvel movies, special effects are necessary to pull it all together. The effects look seamless, so you don't have trouble suspending disbelief. Peter obtains a special set of glasses that act as a computer, digital assistant, communication device and HUD (heads-up display) all at once. This catch-all device serves an important purpose in the plot. Additionally, Peter experiences events that can only be described as if he's in The Matrix or a Holodeck to borrow from other sci-fi franchises. Expect holograms and drones to confirm that this is definitely a modern-day Spider-Man. Since Peter has real mutant abilities, he doesn't have to rely on his suit as much as someone like Tony Stark. You'll see a variety of suits anyway, and it's fun to watch the gadgets that they contain work. The shiny suit with the automatic mask probably ranks as my favorite of the suits.
When the truth about the Elementals is revealed, the bottom falls out of the plot. Things get a bit ridiculous from there. Just because an exciting battle takes place, that doesn't mean that you enjoy it as much as you would, say, the battle with Thanos in Avengers: Endgame. Fortunately, perfectly timed comedy balances the weak points in the movie. Whether it's the awkward teen scenes or the funny term used to refer to Peter's "Spidey sense," your laughter might convince you when you leave the theater that you saw a better movie than it really is. More caustic Nick dialogue and extra scenes with Smoove could have elevated this good experience to great.
I don't see any planned Spider-Man movies on the horizon, which is a real shame given how the filmmakers leave things. As with most Marvel movies, there are surprises. The mid-credits and post-credits scenes here rank as some of the best, so stick around for them. A Ramones classic song fits so well, especially given that the band hailed from Queens and their version of the TV cartoon theme song stands out. Despite its mediocre plot, Spider-Man: Far From Home kickstarts the next generation of Marvel movies and takes you on a European journey that's perfect for a summer trip to the movies.