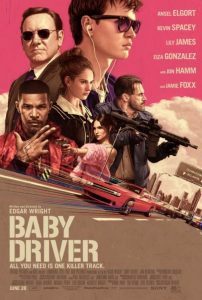 We all love music. Some people take this love to another level by playing an instrument, singing or producing/mixing it. Music also features heavily into our time spent in vehicles. Over the decades, radios have become standard features like air conditioning and airbags. Combine a devotion to music and a skill for driving with precision and speed, and you get Baby Driver. Not knowing what to expect when I settled into my seat, this movie surprised and entertained me with no letup. Quirky, funny and at times breathtaking, heist movie meets High Fidelity in Baby Driver.
Writer/director Edgar Wright developed Baby Driver. Fans of his know him as the director of Shaun of the Dead, Hot Fuzz, The World's End and the video game homage Scott Pilgrim vs. the World. Baby Driver has more in common with the latter project than the previous ones with musical references replacing the concentration on video games. Wright proves his directing abilities from the start with a funky tracking shot on the streets in which the titular Baby (Ansel Elgort) struts while carrying coffee and listening to tunes in his earbuds. More importantly, Wright expertly mixes inventive car chase scenes with humor, strange personalities and even a bit of romance for a flick that's not just another heist movie.
Baby suffers from tinnitus after a previous accident and listens to tunes to drown out the buzz — even when working as a getaway driver for Doc (an acerbic Kevin Spacey at his best) in Atlanta. He owes Doc for a past wrong, so he's the go-to guy when it comes to a variety of heists that Doc perpetrates with various crews. Criminals include Jon Hamm, Jon Bernthal, Eiza González and Jamie Foxx. None of these people trust Baby, but he proves himself behind the wheel with elaborate escapes. Along the way, Baby meets and falls for diner waitress Debora (Lily James), the only good element of his life other than music. For the movie to work at all, Elgort has to be convincing. Previously in The Fault in Our Stars and the Divergent series, Elgort's own star will rise with Baby Driver as his deadpan stare and occasional moments of tenderness win you over as much as his constant sunglasses are memorable. Foxx steals every scene as the violent criminal Bats, and James serves that perfect combo platter of charm and grit.
Those moviegoers who anticipate some great driving scenes will not be disappointed. Each of the heists in the film has its own flavor, and the getaways require different tricks from Baby and his passengers. Heists remain one of the few times in cinema where it feels perfectly normal to root for the bad guys. The constant references to music and how it touches our lives are what sneaks up on you with Baby Driver. Come for the show, stay for the songs! With at least one or two scenes timed to the tracks in Baby's earbuds, Baby Driver calls to mind the sadly much-maligned Hudson Hawk, of which I'm one of a few advocates. More often, I thought of High Fidelity as characters discuss music and how it impacts their world. Baby makes mixtapes of recorded conversations and favorite songs, Bats discusses "hex songs" that can jinx jobs and Baby and Debora mentally review popular songs with their names. The only actor missing is Jack Black.
Wright has a sleeper hit with Baby Driver. I expect to watch this multiple times in the future and discover or rediscover favorite bits as I have with his other films. Focusing on music appeals to the concertgoer and record store browser in me. Careful viewers will spot some big-name musicians in small cameos and a famous songwriter in a more substantial role. I don't anticipate a future in crime, but my "killer track" during a robbery would certainly be AC/DC's "Dirty Deeds Done Dirt Cheap" or "For Those About to Rock (We Salute You)" for a longer job.