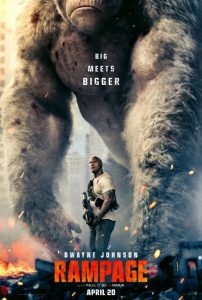 A dangerous genetic experiment accidentally transforms three animals into destructive hulking beasts in Rampage.
Primatologist Davis Okoye (Dwayne Johnson) knows his favorite silverback gorilla George better than he knows the people around him. This beautiful albino mammal seems to know Davis just as well. The two converse like childhood friends using sign language seemingly devoid of limitations. All is well until George uncharacteristically busts out of his gorilla habitat and into the neighboring bear den. When Davis tracks him down, he's shocked to find an agitated ape who also appears to be twice his normal size… and growing.
Before long, George's erratic behavior compels the wild animal to break entirely free of his surroundings. Now out among the general populace, the ape quickly creates a state of mass hysteria. In hot pursuit, Davis learns that George isn't the only affected animal. A wolf and crocodile with similar oversize symptoms are also on the loose. All three are on a direct course to the heart of downtown Chicago. Davis and an unlikely ally team up to locate a cure before these three monstrous beasts destroy everything in their path.
This oddball film takes its inspiration from a simple 1986 arcade game in which players control one of three beasts intent on destroying one city after another. That doesn't exactly fill the writing well with lots of preconceived plot. Then again, it does afford the writers quite a bit of freedom to take the story pretty much anywhere that they want to go. This is Johnson's second pure popcorn adventure in a row after last year's surprise hit Jumanji: Welcome to the Jungle. The difference between the two films is rather vast. This time around, the story serves only as window dressing for endless uninspired effects. It starts off with a scene pretty much lifted right out of Jurassic World. Davis has the same type of relationship and control over his animals as Chris Pratt held over his raptors. In other words, it's complete nonsense.  It doesn't help that the two main antagonists played by Malin Akerman and Jake Lacy are walking, talking, mindless clichés. It's the perfect material for director Brad Peyton — a would-be chef with a single, simple recipe that has one main ingredient: Dwayne Johnson. It's a recipe that he followed twice before in 2012's untraveled Journey 2: The Mysterious Island and 2015's faulty San Andreas.
The difference in 2018 is that Peyton now benefits from a far more seasoned Johnson… the actor… not the… never mind. The Rock pulls off the truly impossible by salvaging this wreck from the surrounding rubble. His on-screen charisma is as boundless as the inexplicable, but adorable, vocabulary that he shares with George. We can't help but go along for the ride. The humor is a bit on the light side, but perfectly timed to provide just enough fun to distract us from the falling debris.