I've been free from cable and satellite TV for a couple of years now — with mixed results. I didn't give up watching entirely; I simply re-calibrated my priorities and expectations a bit and adopted my Roku box as the primary source of programming. As you can no doubt discern from my less-than-optimal happiness, it hasn't always been pain free. There are some things that I miss. I solved my hockey fix by adding the official NHL GameCenter channel. I also worked out a deal to share in my family's cable subscriptions to get access to HBO and other similar programming. Is it ethical? That's a topic for another time. This solution does cover many of my bases. The major one that it doesn't cover is a live news feed. CBS recently premiered a new channel on Roku boxes (and elsewhere) called CBSN. It's their idea of a 24-hour news channel. It's free, but it feels a bit cut-rate compared to the cable news channels. The box cost me under $100, and the extra services (like Netflix) are still little more than drops in the bucket compared to the $140 that I used to pay Verizon, Comcast and DirecTV for TV.
Enter Sling TV. This is the latest attempt to help viewers break free of the stranglehold that cable companies have on various networks. The service is pretty straightforward. The basic "Best of Live TV" package is $20 a month and includes 21 channels. In it, you'll find networks including ESPN, AMC, A&E, CNN, History and more. Subscribers can also choose optional "Extra" packs that cost $5 a month each. There are Sports Extra, Kids Extra, Hollywood Extra, World News Extra and Lifestyle Extra. Each of those include five to eight more topic-specific channels. Word is that HBO will also be added in its own $15 package for a single channel with On Demand access.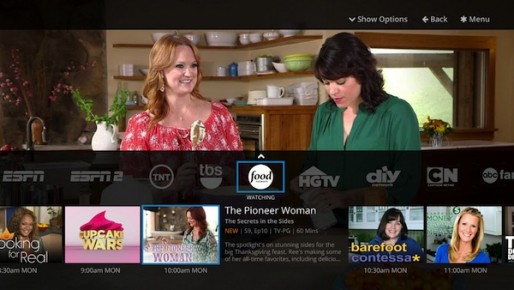 The Service
Sling TV is available on several devices in addition to Roku boxes. You can get it for Amazon Fire TV and Xbox One devices or your computer, laptop, phone or tablet. Functionally, they all work similarly. I'll talk specifically about the Roku experience, but others are nearly identical. After setup, launching Sling TV takes you to a channel selection screen. In the background, you see the channel that you were last watching. A ribbon in the middle shows a scrollable list of all available channels with the current one highlighted in the center. Along the bottom of the screen is another scrollable list of programming on that channel. It includes the show that you just missed, the show that you're watching now and upcoming shows. Scrolling through upcoming shows displays information about them. Once you're happy with your channel selection, you click the OK button on the remote, and the information panels disappear, leaving you watching the desired channel.
The Interface
I'm very familiar with countless other Roku-based channel interfaces, and I find Sling TV's offering to be lacking, slow and often buggy. It feels entirely unlike any other channel that you may have used without really offering anything that seems useful. Everything that you do with it feels forced.
The Experience
For starters, the biggest distinction between this service and cable TV is the complete emphasis on live TV. This is not a solution for anyone who wants DVR functionality. While you can see upcoming show schedules, you cannot schedule any of them to record because there's really no means to record them. Also, more surprisingly, some channels even prohibit you from pausing and rewinding their content. If you missed what the CNN news anchor just said, it's too bad. The quality of the picture and sound is decent, but it's nothing to write home about. At times, it's quite nice. Other times, it's feels like a lower resolution image along with an occasional stuttering problem.
Even though you can access Sling TV on any supported device, most will be surprised to find that it only supports one stream at a time. In other words, if you're watching ESPN on one TV, your wife or kids won't be able to watch it on another.
Another surprise just cropped up with Sling TV's newest update. They added a few new channels, but viewers often found much of the content on those channels unavailable to them because of licensing issues that those networks have with the program owners. Subscribers paying extra for these services weren't told about these potential limits before shelling out the money.
Conclusion
The real decision point for many will come down to the question of value. Is it worth the $20 (or so) each month for what you get? If you decide to go for all of the options, this will run you $45 a month. That's still well below what you'd pay for a typical cable bill, but it's also lacking most of the channels and all of the benefits of better hardware. At $20, it might be worth it for cable users who just want ESPN or a few of the other channels. Anyone interested can also try it out for free for a week.
For me, I thought it might be worth it just to have CNN. Much to my surprise, I found its basic presentation, with no ability to pause or rewind, just too limiting compared with what I already get for free via CBSN.
I like what Sling TV represents, and if they find a way to keep offering more channels while keeping the cost where it is now, this might just be the cable buster it wants to be. For the time being, it's simply an underwhelming, underperforming, overpriced nonstarter.