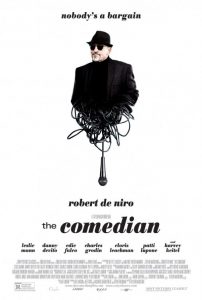 A washed-up former sitcom star tries to salvage his career in The Comedian.
Robert De Niro's been in a tough spot for a number of years now. He's one of the very best actors that Hollywood's ever produced, but he doesn't seem to be able to find the kind of meaty roles that once dominated his filmography. If you think it's just his age, then I counter with Meryl Streep and Paul Newman. Streep still gets those parts, and Newman got them right up until the end. On the other hand, De Niro seems relegated to finding success in smaller supporting roles. His other leading performances have all flopped: Dirty Grandpa, Heist, The Intern, Grudge Match, Last Vegas, The Family, Killing Season and The Big Wedding. The list goes on and on. You have to go back to the '90s to break the trend.
His latest character, comedian Jackie Burke, could sympathize entirely with De Niro's plight. Burke is the aging one-time star of a beloved sitcom from the past. No one can see him outside of that persona, and the same is true of De Niro in this role. We never see Burke behind the mic; we only see De Niro.
The film does feature a few nice cameos, but they mainly feel like distractions. What remains is a film that wants to be Mr. Saturday Night, but lacks Billy Crystal's impeccable timing.  The best thing that anyone can say about The Comedian is that De Niro's been in worse films.