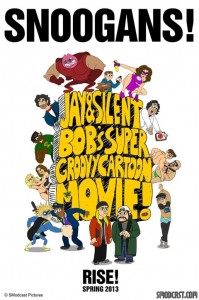 I'd always heard about the sold-out shows by Kevin Smith in and around the Philadelphia area. They were sometimes one-man shows, and on other occasions, he had special guests like good friend and costar Jason Mewes. (For the uninitiated, Mewes and Smith have portrayed Jay and Silent Bob respectively in a number of Smith's movies.) When I heard about their appearance in Glenside, PA, at the historic Keswick Theatre, I just had to attend. I didn't know what to expect, but I had a great time anyway because I'm comfortable with the type of juvenile humor of Smith and Mewes that involves a lot of pot and anatomy jokes that are probably right in line with the minds of 13-year-old boys. The evening included a centerpiece screening of the animated Jay & Silent Bob's Super Groovy Cartoon Movie as well as an episode of Kevin Smith's Cartoon Lagoon beforehand and podcast — sometimes called a "SModcast" because it's named for the first initials of the last names of Smith and producer Scott Mosier — afterwards that was the most fun for me.
The audience was about three-quarters full for the show, and everybody who came was a fan of Smith, Mewes or both as well as Smith's movies and other creations. I have been religiously watching Smith's TV show Comic Book Men, which follows the deals and exploits of the guys who work at his comic book shop in Red Bank, NJ. The show includes scenes of Smith and company recording podcasts about what goes on at the store, and I really enjoy the discussions about everything geeky and comic book-related. I expected that same sort of back-and-forth discussion with Smith and Mewes, and it was clear that they could talk about anything for hours and were only limited by the enforced 11:15 PM end time. The humor might not be for everyone as evidenced by the faces of the elderly ushers and workers at the theater. Still, those who knew what to expect were entertained for over three hours.
Smith took the stage to thunderous applause in his now iconic outfit of a hockey jersey and tan long shorts. After some introductory comments, he explained how the night would go and that there would be plenty of time for discussions and questions during the podcast. Mewes was noticeably absent at this time, and Smith explained that he had missed a radio station visit in the morning because he overslept. Smith immediately dispelled any idea that Mewes was strung out or high for missing the radio show. Mewes's drug history was a frequent topic of conversation for the night to the point where it made things a little uncomfortable. I actually felt a little sad for Mewes to have to listen to this again and again, but perhaps that helps him stay strong somehow. At the same time, Smith beamed with pride that Mewes had applied himself and produced the animated movie. As they mentioned a few times over the course of the night, the Glenside show was the last one before a break of a few days, and they had extra energy from knowing that they would soon be home.
The animated parts of the night were absurd, silly, sometimes disgusting and outright hilarious. These are the kinds of cartoons that I would expect for an audience of adults, and Smith and company didn't fail to deliver. The Cartoon Lagoon section got us into the mood for what was to follow. I honestly can't remember what the cartoon was about, but I know that I laughed a lot. This is not the kind of animation that I should review. If they put out the movie in theaters, I'll revisit it, but for now, it suffices to say that the animation kept us in stitches for an hour or so. Between the Cartoon Lagoon section and the main feature, Smith killed time so that the movie could be switched. Some commercials were aired right before the movie. Smith and Mewes were in all of them, and each one was funnier than any of the best ads for the Super Bowl. Jay & Silent Bob's Super Groovy Cartoon Movie took me by surprise. Loosely based on the exploits of Jay and Silent Bob's superhero identities Bluntman and Chronic, the film boasts the voice talent of Smith, Mewes, Eliza Dushku, Tara Strong, Jon Lovitz and Neil Gaiman among many others. Director Steve Stark guides the filthy jokes, pot/potty humor and animated sex acts. This is over-the-top, goofy stuff that won't win awards but would surprise you with various ways to use an awards statue. It's no surprise that a lot of this film came from the mind of Mewes because his trademark snarkiness is evident throughout. At some point, there was a nice nod to the past as an animated version of Brian O'Halloran of Clerks appeared to deliver his signature line from that movie: "I'm not even supposed to be here today!"
After a short intermission, the highlight of the night was the podcast. A table and chairs were set up for Smith and Mewes to field questions from the audience. I enjoyed the back-and-forth nature of the night; it was like sitting around with your best friends and talking about almost any topic. Nothing was off limits. There were two lines for asking questions — one for Mewes and one for Smith. The Q&A session lasted well over an hour and involved a variety of topics. Smith and Mewes addressed Mewes's drug problems and persistent rumors of his death. Supposedly, People called Smith one day to get a comment on Mewes's overdose. Smith interrupted that call to answer his phone and found that it was Mewes himself calling him. Mewes explained that People had called him, too! Even funnier, Mewes explained that he and his wife tried to have sex in the bathroom of the moving tour bus, which was nearly impossible because of the size of the room and the motion of the bus. The blue water splashed up from the toilet to truly give him blue balls. Smith fielded a question about Clerks III. He explained that he wants to have a scene with as many extras who want to come out as possible. Perhaps it will be a concert scene? Smith expects to finish the script and start filming soon. In an unexpected moment, a member of the audience who claimed to be a rated Rock Paper Scissors player challenged Smith to a best-out-of-three game. It was close, but Smith lost. He didn't seem to mind because he was so amazed that there was such a thing as an official league of Rock Paper Scissors players.
The final orders of business for the night were two things that Smith and Mewes do to end all of their podcasts. Mewes announces how many days he has been sober. The number is over 1000, and the encouraging applause from the Glenside audience and many like them will hopefully keep him on the straight and narrow. The other activity is a little game the guys call "Let Us Fuck." Mewes creatively simulates sex with three audience members based on suggestions for names of sex acts placed in a basket in the lobby before the show. (I tried finding the podcast online to get the names right, so if anyone who reads this can point me to the podcast, I'll update the article.) I remember the first one had something to do with Philadelphia Cream Cheese. The second rhymed "Keswick" and "Glenside" in the name. The third one had something to do with a Philadelphia cheesesteak. Appropriate stereotypical porn music accompanied Mewes's manic movements. I only wish they had time for more than three.
The first time I saw "Weird Al" Yankovic live many years ago, I was blown away and shocked at how thoroughly entertaining his concert was. I've never missed him since. For completely different reasons, I enjoyed the show by Smith and Mewes and plan to make sure I see any of their other tours or appearances in the area. Jay and Silent Bob will return!