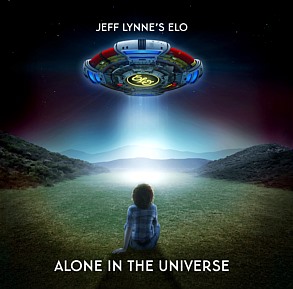 The lights of ELO's spaceship return to the skies after a 14-year absence with the release of their newest album Alone in the Universe.
Sweet, sweet is the night, now that ELO has returned, this time dubbed Jeff Lynne's ELO. Jeff Lynne and ELO have essentially been two halves of the same entity, more or less, since the formation of the Electric Light Orchestra (ELO) in 1970, so the name is a bit redundant at this point. This is the first original material under the band's name since 2001's fairly forgettable album Zoom. What a difference 14 years makes.
The latest production includes 10 main songs and two bonus tracks (three for the Japanese release for some curious reason). It's an album that settles in quite comfortably with the rest of ELO's highly successful, respected body of work. The initial response is one of a more muted ELO with heavier bass tones and the typical lower energy so common in classic bands late career releases. Subsequent plays draw the divide between the years and styles much closer together — if not entirely so. Fans will find plenty of the soaring orchestral flourishes that dominate the ELO brand.
Let's take a look at the tracks:
1. "When I Was a Boy" – A seemingly biographical number and the first single released from the album. It has an immediate ELO feel, although it suffers slightly from overly repetitive lyrics (never Lynne's strong suit). It's still a melodic winner that deserves more airplay.
2. "Love and Rain" – A slow, low-impact number with a bit too much of an echo effect and distracting backing vocals. It finally finds a nice balance three-quarters of the way through, but only for a moment before it returns to the same overdone refrain.
3. "Dirty to the Bone" – A catchy number that has the power and feel of several past ELO hits. You'll be singing along to it before it reaches the midpoint. Its only negative is its outdated potentially misogynistic lyrics.
4. "When the Night Comes" – The least impressive track of the album. It invokes the words "midnight blue" perhaps in hopes of borrowing some of that earlier song's beautiful aura, but it fails. The chorus is awkward, and a repetitive background beat dominates the song throughout. The night doesn't come fast enough for this one.
5. "The Sun Will Shine on You" – A flowing, clean introduction that carefully and slowly pulls you in. You're in the middle of the song before you realize its soft-as-pillows approach has lulled you into a nice reflective mood.
6. "Ain't It a Drag" – The tempo takes an immediate uptick with this memorable toe-tapper. Once again, the lyrics could be better, but the melody and mid-song tempo change quickly win you over. It also feels a bit like a song Lynne would have produced for late friend and previous Traveling Wilburys bandmate Roy Orbison.
7. "All My Life" – A soft, infectious, heartfelt ballad that's one of the album's strongest efforts. Its mellow approach and beautiful lyrics are hypnotic. Light a candle, put your head back and let it take you away. You'll want to grab your loved one and dance breast to breast as a tear wells up while thinking of all of the good times.
8. "I'm Leaving You" – A track that immediately calls out for Orbison's signature voice. Lynne had to have him in mind while creating it. What could have been an Orbison staple is just an average song with Lynne's less powerful vocals.
9. "One Step at a Time" – A rolling, intriguing melody that keeps you hopeful until a mid-song changeup that doesn't quite deliver a standout.
10. "Alone in the Universe" – A spacey, ethereal start to not only the album's best ballad but also its best song. The melody and lyrics haunt you. This is the ELO of old. By the time it's over, you'll want to crawl up in a small ball and lock the rest of the world out as you ponder your own existence. This should find a future home in many a soundtrack. It's a total jewel of a song.
11. "Fault Line" – The first bonus track is a curious, novel affair typical of many past ELO singles. A nostalgic toe-tapping number that somehow mixes country, Polynesian and '50s elements with overly cute lyrics. It only lacks a solid hook.
12. "Blue" – The second bonus track is another vintage ELO effort that's a winner with a lilting, airy feel. Fans will find themselves heading down memory lane in no time flat.
On the whole, Lynne's 14-year layoff is a payoff.  It doesn't reach the highest gear of his past efforts and, at times, feels like a Traveling Wilburys album short the rest of the band. It still evokes the band's glory days with several signature ELO hooks, numerous quality guitar riffs and a wonderful journey through several welcoming emotions. Here's to hoping the spaceship's next trip to our tiny blue world isn't quite as long in coming as its last visit.