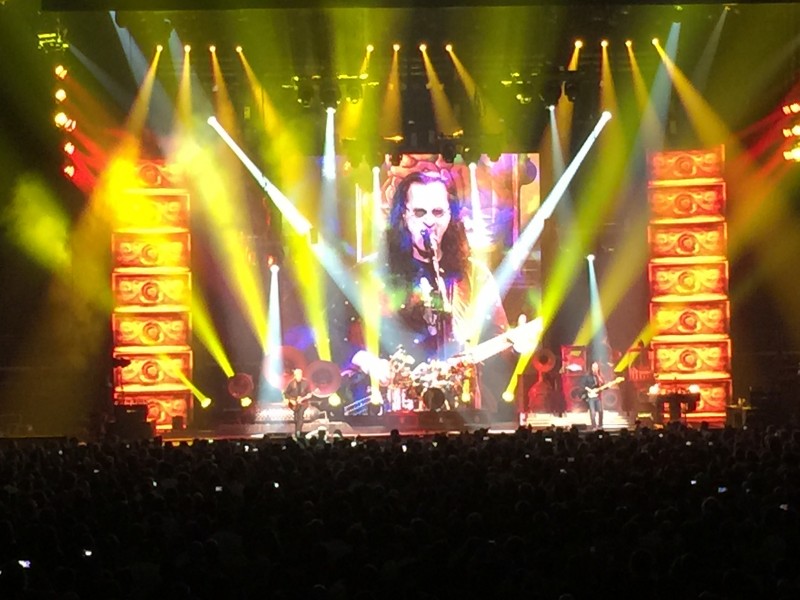 I first saw Rush over 30 years ago in 1984 in a place that's no longer with us called The Spectrum in Philadelphia. At the time, Rush still played "short" sets and had opening acts. Over the years, I stuck with Rush as one of my favorite bands and saw them all over the Philadelphia area on every tour. As they added more albums and material to their repertoire, it became impossible to sample a mixture of songs without doing one of those "an evening with…" bills and forgoing other performers. You're never going to make everyone happy, but I can honestly say that every concert was exciting for me in terms of how the rock trio would deliver classic tracks and introduce new numbers. Rush's "R40" celebratory 40th Anniversary tour is on the road now. While most acts of their vintage peter out over time, Rush is still on the upswing and delivering shows that mix familiar hits, incredible musicianship, visual treats and their wacky sense of humor for a concert experience that's sure to please Rush fans from all generations.
Rush was one of the earliest rock bands to couple visual interpretations of their songs into their performances and used film projectors behind giant backdrops before the modern flat screens became available. It was only fitting that the animated intro video for the R40 tour both summarized the band's history, including hairstyles and fashion, and reflected what music was to come over the next 2+ hours. (They customize the video to every city with a final shot of the trio arriving at a road sign, in this case one that read, "Philadelphia – Home of a Huge Bell.") Guitarist Alex Lifeson, drummer Neil Peart and bassist/keyboardist/vocalist Geddy Lee took Philly on a sonic journey through the years that didn't make all of the stops along the way but made enough of them to provide a glimpse into the decades of albums. I had no idea what to expect before I saw the set lists from earlier tour stops. This was not merely a standard concert in which new songs and hits were mixed well together and the biggest songs were saved for the encore. With news floating around that this could very well be Rush's last major tour, the band took a very creative approach to a set list that went backwards in time through their catalog while the set and visuals changed around them.
Opening with "The Anarchist," "Clockwork Angels" and "Headlong Flight" from the recent Clockwork Angels album, Rush began a first set that had just 10 songs to represent about 33 of their 40 years. For my money, that was a huge imbalance. The Clockwork Angels tour explored that album in better ways than it could possibly be addressed on a historical journey like this. With about a third of this set's numbers from that album, entire albums like Presto, Hold Your Fire and Power Windows were completely forgotten. Rush used to not vary their sets at all on tour, especially because of the intricate nature of their shows with the visuals and videos. In the past few years, they've softened in that regard, so there are some variations in songs on the set list on this tour more than any other. I like the selections that Philly experienced; as with all Rush shows, there's that hunger for more, and the first set left me a little underfed. One of the highlights was "Roll the Bones," which got a face-lift for its spoken/rapped middle part. An animated skeleton delivered those lyrics in the past, so it was fun to see some famous fans and friends of Rush take over those lines on screen. Who knew that Peter Dinklage was a Rush fan?!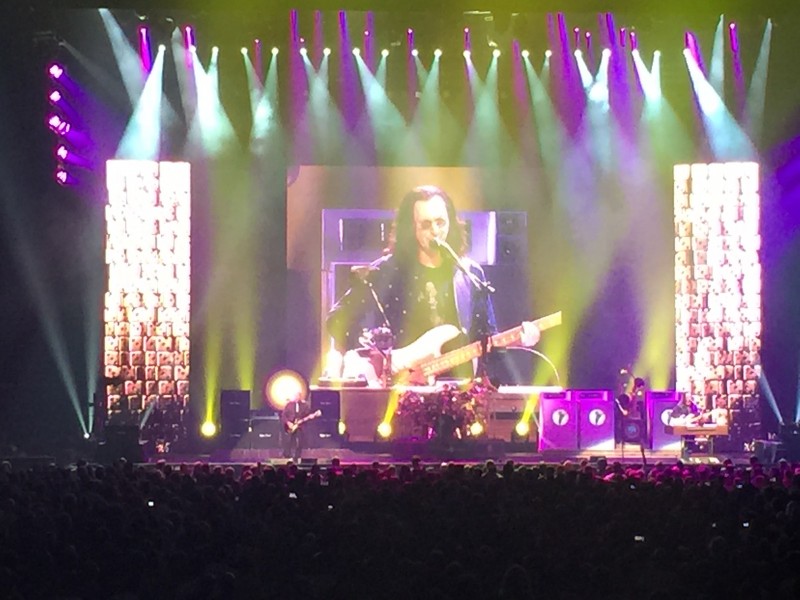 The concert's second half felt more solid and contained in time because it covered five years and five albums. Sometimes reserved for encores, Rush's biggest hit, "Tom Sawyer" from 1981's Moving Pictures, started off the second set. Intricate instrumental "YYZ" (named after Toronto's airport code) continued the set with another selection from Moving Pictures. In some cities, Rush performed "Red Barchetta" in place of "YYZ." I love them both, so I couldn't have lost out either way. "Closer to the Heart" was removed to make way for other hits on previous tours; it was nice to hear it again in the R40 set. The songs in the second set were more representative of Rush's progressive rock roots and reputation. "Jacob's Ladder" and "Xanadu" are long pieces that feel like full journeys themselves as the music mirrors the stories in the lyrics. Rush played their classic 20-minute "2112" in its entirety a few tours ago, but for R40, they limited their exploration to the most well-known parts. Much like "Subdivisions" ended the first set on a high note, the finale of "2112" was the perfect end to the show proper.
For as many years as I've attended Rush shows, I've always heard people grumble about Rush not playing enough "old stuff." I didn't hear any complaints about the R40 tour. If the second half wasn't satisfying enough, the encore took a trip all the way back to the first three albums with a stage design that reflected what it might have been like to see Rush in those early years. This was not a greatest hits tour, so "Limelight," "Freewill" and "The Trees" were missing. "Working Man" is a regular of past tours, and R40 resurrected the welcome "Lakeside Park" as well. The band seemed to enjoy their time in Philly as much as the audience loved the concert, and that joy carried through to their performing as Lee and Lifeson occasionally crisscrossed on the stage or stopped at Peart's kit to watch him pound out his complex rhythms.
Although this lineup of Rush is not the original in the strictest sense because there was another drummer for that first album and some shows, this trio might as well have been the only one given their longevity. I hit people with this trivia all of the time. It's tough to name intact bands that didn't change personnel at all for decades like Rush. The talk is that Lifeson is experiencing problems with his hands that make playing guitar painful at times. I only hope that there's something that can be done to alleviate his pain and open the door to future tours. Lifeson's playing is so fluid and beautiful, especially on the longer numbers that include various styles or chord changes, that it's still amazing to watch his fingers as the familiar sounds of "Tom Sawyer" or "Subdivisions" emanate from his guitar. Lee's like a little kid running around with his bass, and it's almost perfunctory when he plays some of the signature parts on his keyboards. His voice was as strong as ever. Peart is just a living legend on the drums. There was sadly no lengthy drum solo in this show. Instead, his mini-solos were established parts of instrumental numbers like "YYZ" or "The Main Monkey Business." Of course, he plays every song like it's a drum solo. Listen to the incredible switches in rhythms on "The Spirit of Radio," "Tom Sawyer" or any other hit on the radio. Peart used two drum kits in the show — a more technologically advanced one for the first half and a more traditional kit for the second half and encore.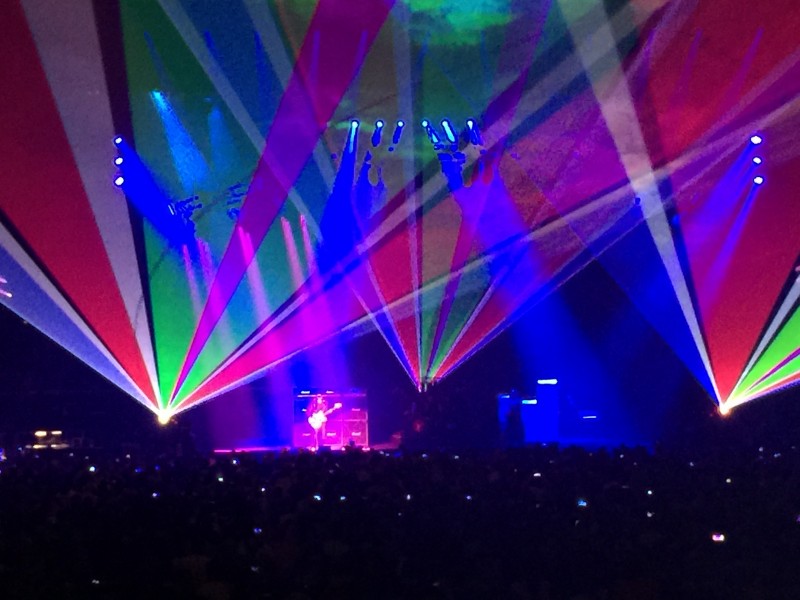 Rush tours of the past included some interesting staging as well as the video projections. On one tour, they had actual clothes dryers on stage from which they would pull (now collectible) T-shirts marked with the dryer number to throw out to the audience. The R40 tour's stage was a fluid location with stagehands appearing every few minutes to adjust one thing or another. Some people considered this to be a distraction. I found it to be rather brilliant, especially with the staging regressing over the concert from the recent accoutrements like a popcorn machine and dryers to traditional sights like speaker stacks. For me, the stage was Rush's version of The Wall with the transformations reflecting the era of the music being played. In the end, even the speaker stacks gave way to simpler designs. Rush never skimps on the light show, and the lasers seemed to get an upgrade with some effects with "solid" lasers that I never saw before. Rush never used pyrotechnics that much in their career, and that's still the case here. Those familiar with past concerts will know when to expect fireworks and fire respectively in "Far Cry" and "One Little Victory."
Although the guys in Rush are serious musicians, there is a hilarious side to them that clearly explains why they used to play the theme from The Three Stooges right before they took the stage in years past. Their humor has emerged more and more over the years, and it has never been on display as much as the R40 tour. Maybe their appearance as versions of themselves in I Love You, Man loosened them up. The monkey business of the stagehands kept me smiling constantly, while the videos at concert breaks were more concentrated doses of humor. In the opening video, they poke fun at themselves as the animated versions grow and lose hair and change clothes with the times as well. The "No Country for Old Hens" video before the second half is a series of outtakes and blunders from the videos of the past few tours. These scenes include Jerry Stiller and Jay Baruchel as well as the band in various costumed roles. The video before the encore may be the funniest because it includes a comedy legend in a '70s-style bit.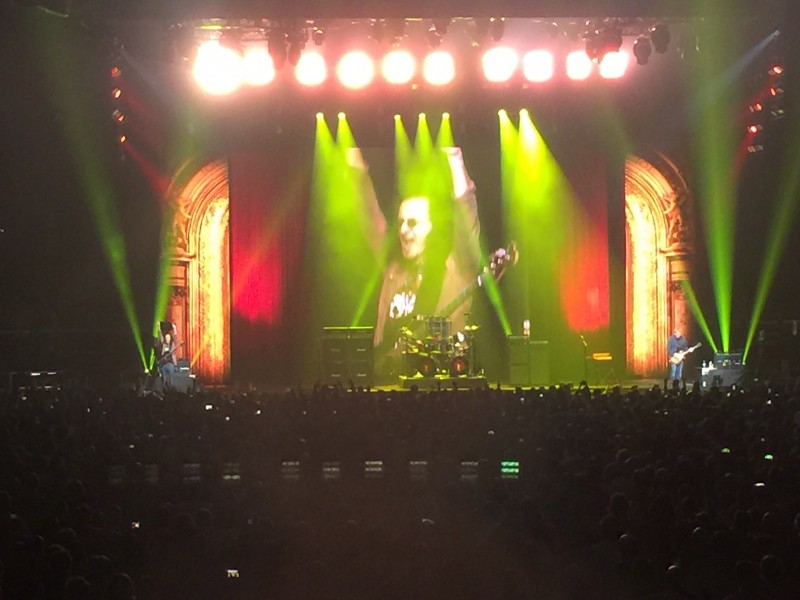 I can mark my own musical appreciation and life events by the Rush tours over the years. If this is indeed the last roundup, it has been an amazing ride. There are plenty of official Rush concert performances available on disc for reliving these experiences. I just hope that some time off after this tour will get those juices flowing once again. Given the breadth of material and the band's willingness to try new things, there are plenty of possibilities for future tours. I have dreamed about a concert in which one set is nothing but instrumentals. Hey, it could happen. After all, they did collect the songs that are marked as parts of a larger piece called "Fear" on one tour. The Ramones stopped performing when they were at the top of their game, and if Rush is pulling the same trick, they delivered one of their most memorable performances. I'm just not ready to say goodbye.
Set 1
The World Is… The World Is (video)
1. The Anarchist
2. Clockwork Angels
3. Headlong Flight
4. Far Cry
5. The Main Monkey Business
6. One Little Victory
7. Animate
8. Roll the Bones
9. Distant Early Warning
10. Subdivisions
Set 2
No Country for Old Hens (video)
11. Tom Sawyer
12. YYZ
13. The Spirit of Radio
14. Natural Science
15. Jacob's Ladder
16. Cygnus X-1 Book II: Hemispheres (Part I: Prelude)
17. Cygnus X-1 Book I: The Voyage (Parts I & III)
18. Closer to the Heart
19. Xanadu
20. 2112 (Part I: Overture)
21. 2112 (Part II: The Temples of Syrinx)
22. 2112 (Part IV: Presentation)
23. 2112 (Part VII: Grand Finale)
Encore
Mel's Rock Pile starring Eugene Levy (video)
24. Lakeside Park
25. Anthem
26. What You're Doing
27. Working Man
Exit Stage Left (video)