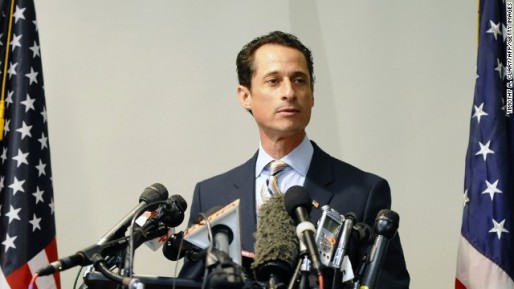 Two disgraced politicians from different sides of the political aisle are currently getting media attention for their comeback bids. Anthony Weiner, my one-time congressman, will decide within a few days whether he will run for mayor of New York City this year. Former Governor Mark Sanford of South Carolina, a man Erick Erickson of Red State endorsed "without reservation," is the Republican nominee for Senator Tim Scott's old congressional seat. Polls currently show him an underdog to Stephen Colbert's sister, the Democratic nominee.
Comparisons between the two former colleagues are instructive. Sanford's crime was worse. Weiner sent dirty photos, sometimes unsolicited, to women he communicated with on the Internet. At least no one's claiming that he cheated on Huma Abedin, his impressive wife. As Governor, Sanford caused a mini-emergency in his home state when he was unavailable for several days because he was hanging out in another country with his mistress.
Weiner's response was worse. He spent several days attacking the character of his political opponents when he knew that they were telling the truth. That was the most unforgivable thing he did. When caught, Sanford confessed everything in an embarrassing spectacle of a press conference.
The political consequences were worse for Democrats in Weiner's district. Weiner was skilled at constituent services and got media attention as a liberal firebrand, but he had no legislative accomplishments to speak of. His utility to the Democratic party may have been the way his liberal alternatives to legislation allowed Blue Dog Democrats to seize the middle ground. Weiner was succeeded by Republican Bob Turner, and his district was later split into several elections as New York lost two congressional seats in the aftermath of the 2010 census.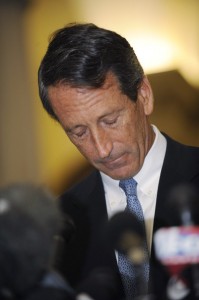 Sanford was considered a potential running mate for John McCain in 2008, so it's possible that he would have hurt his party even more. As disastrous as Sarah Palin was, it wasn't entirely clear she lost the Republican ticket any votes in 2008. If McCain had picked a very conservative middle-aged white guy with a mistress, that could have been a disaster on par with Tom Eagleton in 1972. From Sanford's behavior, it does seem unlikely that he would have have been chosen. He seems like the guy who would tell the vetters about his mistress.
There are differences in the offices that they're currently seeking and what it seems they want to gain. Sanford seeks a demotion, as a former Governor running for Congress, a position he held from 1994-2000. It creates the perception that he wants to spend several years rebuilding his reputation. Republican primary voters gambled that they would get a conservative representative who would have a higher profile than anyone else they could have voted for — all the better to protect their interests and advocate their preferred policies. It was a fairly conservative district, so chances were pretty good that any Republican candidate would win the election. After a spectacularly flawed campaign, which included the revelation that his ex-wife pressed charges against him for violating a restraining order, this gamble seems to have backfired.
Weiner claims he wants to run for mayor. That's something he sought for the last decade. He finished second in the 2005 Democratic primary and opted out of running in 2009, apparently because the Bloomberg campaign spooked him with hints that they had dirt on him. He has no executive experience to speak of. Currently, polls show him in second place, which would allow him to enter a runoff with City Council President Christine Quinn. Weiner's chances of actually winning the primary are much lower than for Sanford's. He's doing the same thing he would have done if he had not resigned in scandal, although he's no longer the front-runner.
Weiner has no executive experience, so mayor isn't a position he's obviously qualified for. There was chatter he might aim for a less prominent office like public advocate or comptroller, although his reputation may not be able to recover if he loses a bid for lower office. He may view a run for mayor as an opportunity to rebuild his image, even if it's almost certain he'll lose to Quinn. Sanford's interests coincide with those of his potential constituents. Weiner could reasonably hope to enter the runoff and be a protest vote against Quinn, taking that spot from someone who could actually win. If so, a vote for him would represent support for his political future. That said, given the speed at which local legislators in New York City have been getting arrested, it wouldn't be impossible for Weiner to actually win.
Democrats should look at South Carolina as a cautionary tale. Republicans picked a flawed candidate, and they may very well end up losing the first special election of President Barack Obama's second term. The expectation in New York City is that whoever wins the Democratic primary will be the next mayor, but it is worth noting that the Republican candidate has won the last five elections and that, the last time the Democratic candidate won, Rudy Giuliani lost the closest election in the city's history. Republicans in South Carolina will likely watch Elizabeth Colbert-Busch provide one more vote for Nancy Pelosi as Speaker. Do Democrats in New York want to increase the possibility of either a Republican mayor or a Democratic mayor who starts as a national joke on day one?