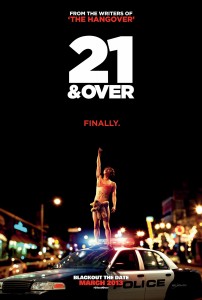 I'm sure you remember when you saw The Hangover for the first time because it was a funny, bizarre film constructed like a mystery. The questions at the heart of the mystery kept audiences interested, and the wacky, vulgar humor kept them laughing. It's OK to duplicate your own creations as long as the copies approach the quality of the original. 21 & Over is from the writers of The Hangover and Ghosts of Girlfriends Past. They don't match the success of their huge hit, but this movie is like a lite version of The Hangover with less-known actors and a more confined set of locations than Las Vegas. Raunchy, outrageous humor is on the menu. Who doesn't need to laugh a bit more these days?
21 & Over is the brainchild of writers/directors Jon Lucas and Scott Moore in their directorial debut. Based on this film and previous ones, you shouldn't be surprised if these guys churn out raucous comedies like The Farrelly Brothers. The movie begins with friends Miller (Miles Teller of Project X) and Casey (Skylar Astin of Pitch Perfect) walking naked across a Washington college campus except for a pair of strategically placed tube socks. How they got there is just one piece of the puzzle. The real star of the film in every way is Justin Chon — he has a small role in three of the Twilight movies — as Jeff Chang, credited as "JeffChang" because Miller and Casey never refer to him only by his first name. I predict that Chon will be known for a long time as Jeff Chang because it's a memorable role much like that of Christopher Mintz-Plasse as McLovin in Superbad. In fact, 21 & Over shares kinship with Superbad as well as The Hangover.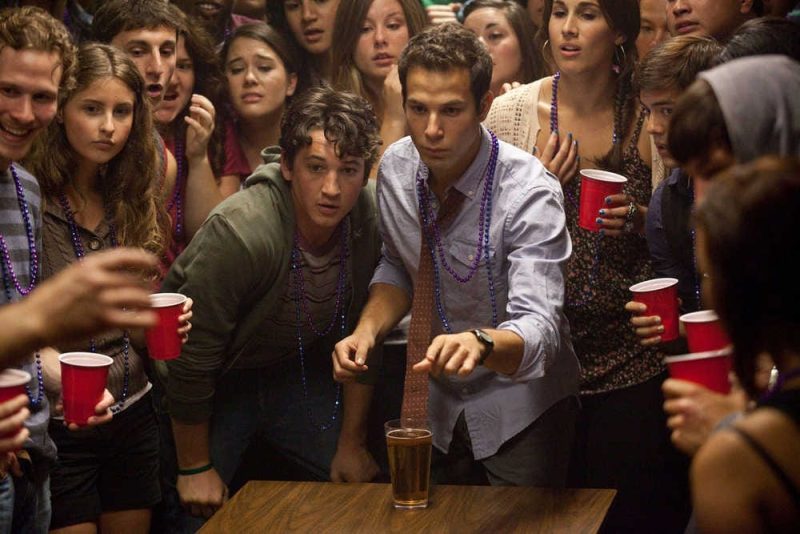 Miller and Casey decide to take Jeff Chang out on his 21st birthday. The only problem is that he has an important medical school exam the next morning. Jeff Chang's father, Dr. Chang (Francois Chau), makes Miller and Casey promise to have his son home and rested in time for the 7 AM pickup. Like that's going to happen… Instead, Miller and Casey give Jeff Chang a night to remember and end up making their own memories, too. (Fans of Lost will get the in joke of Chau's character because he portrayed Dr. Pierre Chang on the series.) I can't and shouldn't begin to describe the events of the evening for these three friends, but it suffices to say that it involves a lot of drinking, partying and coed chasing. Chon steals every scene as he transforms from a nervous student to an out-of-control 21-year-old unafraid of bouncers or jocks. Throughout the night, Casey pursues the out-of-his-league Nicole (Sarah Wright) as he avoids her boyfriend Randy (Jonathan Keltz), and the guys encounter The Chief (Russell Hodgkinson dancing in a headdress), who may just be the solution to their problems.
21 & Over worked for me because it has something that occurs in that long night that most college students might find familiar. I certainly had my all-night romps, but they never involved breaking into sorority houses or dragging around a passed-out Jeff Chang. This is low-brow humor at its best, and that's not meant to be a put-down. Expect to laugh often whether you'll admit it later or not. The comedic timing is perfect, and the distraction of A-list actors' faces isn't a factor. Recent years have produced manic comedies like American Pie and Superbad that keep you in stitches and somehow slip in a sweet moment or life lesson near the end. 21 & Over lives up to those kinds of films and introduces an iconic movie character in Jeff Chang, who represents all of the people on the verge of 21 who let loose for once when they reach that age.