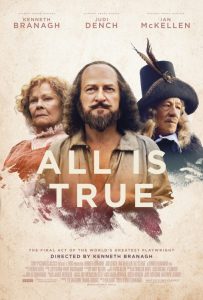 The world's most famous playwright returns home to a life every bit as complicated as that of many of his characters in All Is True.
When a blaze at the renowned Globe Theatre reduces the venue to ashes, William Shakespeare (Kenneth Branagh) is forced to close his final show and return home to a world that he scarcely knows. His long suffering wife, Anne Shakespeare (Judi Dench), has endured through years of neglect and loneliness as her husband reveled in the excesses of a superstar life in far-off London. William's career left her and their two daughters behind to mourn the death of the couple's young son alone. Gone is the glitz and the glory of the big city that he once dominated. In its place is a world of broken, real-life characters whom he so callously wrote out long ago. Healing such deep wounds won't be as simple as writing a new final act.
Branagh both stars in and directs this curiously strange and compelling film. As Shakespeare, he's nearly unrecognizable behind layers of makeup best left to stage shows. In fact, on first glance, I thought that it might be Ben Kingsley. Thankfully, his performance only strengthened the similarity.
The real challenge for this film is its first 50 minutes. It plays out very much like a typical English period piece with long, interminably slow shots and frustrating dialogue made all the more challenging by its slight Old English delivery. The visuals are otherwise both beautiful and disarming. We can almost smell the crisp, clean air and feel the clingy sweat beneath the heavy cloth attire of its characters.
If you can stave off the initial boredom, the plot takes off like a rocket for the film's second half. It's full of intrigue, surprises and several moments of pure emotional hell. Kudos to relative newcomer Kathryn Wilder, who dominates the screen with her searing performance as daughter Judith. Casting agents should take note. The film was written by Ben Elton, who previously acted in Branagh's 1993 romp Much Ado About Nothing, another Shakespeare adaptation and a film that's a personal guilty pleasure of mine. Elton is mainly a comedic writer, but there's nary a joke to be found here… and rightly so.
The film's other two big stars are Dench and Ian McKellen in the role of a local Earl and good friend of William's. McKellen's top billing is unfortunately misleading, although obviously understood. He only shows up in one scene that's not only entirely unnecessary, but also painfully uninteresting. Dench's performances are so reliable that commenting on any of them seems pointless. Of course. she's great here. That said, I think she's sadly miscast to the point of distraction. Anne was eight years older than William, while Dench (now 84) is 26 years older than Branagh. When we're first introduced to her character, we can't help but question who she is. Anne was 55 when the story takes place. This stands out more when we meet their daughters, who look simply too young to be Dench's. As good as she is, it's asking a lot of an audience to believe that she's in her 50s. Yes, I know that men have gotten away with this forever, but that's every bit as wrong and something with which I would just as quickly take issue.
Another major point of contention is the title itself. While it takes its name from Shakespeare's last work, it also suggests a false narrative. All is not true here. In fact, most of what we see is pure conjecture. In my humble opinion, Branagh would have been better off telling a similar story using fictional characters. This is another case where nearly all of the film's best moments — there are many — likely never happened. Even so, what remains is a hard-to-forget tale that's often as enchanting as many of Shakespeare's best works.